January 14, 2016
The Boquete Flower and Coffee Festival (Feria de las Flores y el Café) is a very popular event. 
The festival has been happening in some form or another since 1950.
In 2016, the festival is 10 days long, January 14-24.
The festival is a huge celebration. Thousands of people flock to Boquete to see it.
So don't expect to get a last minute hotel reservations. People reserve rooms months in advance. However, you may be able to find a hotel room about 30 minutes away in David.  
I must admit that so far the crowds have always kept us away from the festival.
But this year we are going! I am looking forward to it.  I will write up our review of the festival once we go.  
Now that our younger daughter, Blaise, is getting older, it is easier & more fun to go to these bigger event. (She is now 9 years old.)  Blaise tolerated our participation in the Boquete Jazz festival last year.  But I think she will enjoy this festival much more.   Not only does she love flowers, but there are amusement rides and more vendors of both food and crafts.
---
BTW the Boquete Jazz festival is February 25-28 this year.   To learn more about Jazz festival, read about our visit to the 2015 Boquete Jazz festival.
---
I hear that during the 10-day flower and coffee celebration, the Boquete fairgrounds overflows with lush fill landscaping and flower displays. People spruce up their own gardens as well.  You also get many opportunities to enjoy a cup of local coffee.  And there are many food stands, live music, amusement rides, handicrafts booths, and more.
If you miss the festival,  you can still see the flower displays thru April.  You can get in to see them for only $1.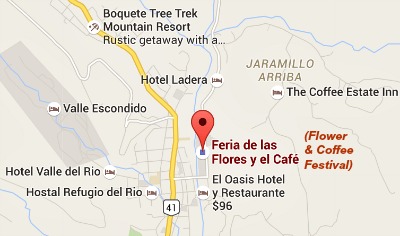 Location
The flower fair is located at Boquete's fairgrounds along the Caldera River, near downtown Boquete.
Also, in mid-April, Boquete holds the same kind of festival, but much smaller.  This one is the Orchid Festival (Feria de Orquídeas). It last for 4 days.  Many orchids bloom in April, so it is an ideal time for local orchid growers to show off their orchids.