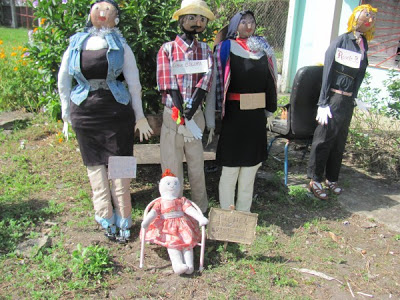 What you do at the start of the new year will set the tone for the rest of the year. 
At least that is what most Panamanians believe
People carefully consider how to greet the new year here.
Want a new car?  Make sure you are touching the car you want, or at least the toy car version.
Want to go on a trip?  Walk around with a suitcase when the New Year begins.
My guess is that many Panamanians, and others around the world, will greet the Year on the dance floor with a glass in hand.  Not a bad way start to 2016.
I love to travel.  Luckily for me, my family and I will be in an airport at midnight on New Year's Eve.
Read about the many New Year customs and traditions in Panama here.  Many are quite unusual, like the one in the photo above.
New Year's Eve is an big event in Panama.
Everyone is in great spirits and ready to party!
If you will be in Panama for New Year's Eve, you also need to plan ahead.
Often for big holidays you can not buy alcohol in grocery stores for a specific period of time.  I'm not sure that will happen on New Year's eve, but it is worth asking about before New Year's Eve.  But you can always go to a bar, of course.
Learn about 12 of Panama's New Years customs, by clicking here.
Happy New Year!