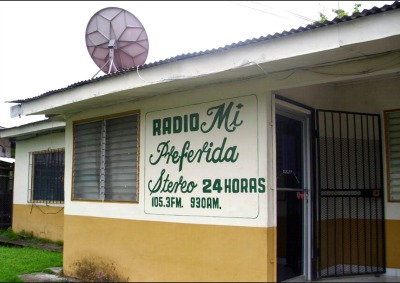 UPDATE – The radio show is currently paused (June 2016)
We have good news for all of you radio listeners in Puerto Armuelles and environs.
If you have been waiting for an expat radio show by expats, and in English, it has arrived.
Recent transplants to Puerto Armuelles, Michael Butler and Beverley McAleese, have undertaken a new adventure.  They will be hosting a weekly program at our local radio station "Radio Mi Preferida" (located behind Romero's).
It is fun that our town is small enough, and simple enough, that you can still make a proposal for a radio program, do the necessary research for the show, find a way to cover costs (I am sure contributions will be welcome. Betsy and I have already pledged to contribute), and get the program on the air.
The Hosts – lots of broadcast experience
What is amazing is that in our little town of Puerto Armuelles, one of the co-anchors of the new radio show, Michael Butler, has 45 years of broadcast journalism experience in the private sector and with the CBC in Toronto, Ontario.
Michael's roles in radio have included research, writing, and reading the news live on the air nightly. He has also produced newscasts for television that have aired nationally in Canada. He has interviewed presidents and prime ministers, beauty pageant winners and punk rockers. He even covered the 1976 Montreal Winter Olympics.
Michael's wife and co-anchor of the new show, Beverley McAleese has a diverse background indeed. However, professional social work, and being of service to others, are a thread that runs throughout her career. Among Beverley's social service projects have been working with battered women and women and their infants recovering from addictions, and creating a program for prostituted and trafficked women.  Beverley received a Toronto YWCA Woman of Distinction Award in recognition of her career of service to the public.
About the Show
While we are not familiar with the details of the upcoming radio show, Michael and Beverley have indicated that their half hour show, which airs each Wednesday at 4:30 PM, will touch on matters of spiritual significance, but without being Christian-focused, or reflecting the views of any particular belief structure or organization.
The topic of our spirituality, while living in an apparently carefree place like Puerto Armuelles, Panama is, no doubt, of significance to all of the expats here. Some of us have gotten together to discuss, or at least we are highly aware of, the challenges that arise when one makes the big decision to pick up stakes and move to Panama, only to discover that, just because we live in "paradise", doesn't mean that our lives are paradisical.
Ultimately, we all have to confront the same basic challenges that we faced before, in our "old lives" wherever it was that we were living. In fact, a number of Puerto Armuelles ex-pat residents have lived in a tropical paradise before, in Costa Rica, or elsewhere in the tropics. What on earth could cause one to leave paradise and move to another paradise ?(other than taking a bite of that forbidden apple, or mango)? My guess is that if the first paradise didn't solve the problem, then the second (or third, or fourth) paradise is not going to do it either.
If none of this applies to you, congratulations, (I would like to read your book). However, if you are like most of us, then you are a "work in progress", and you can probably learn something useful from Michael's and Beverley's program. Or call in, or email in something useful to add to the conversation.
I wrote abit about spiritual life in Panama in this post.
How to Listen
You can listen online or on an old school radio.
The radio station is Radio Mi Preferida Estero at 105.3 FM or 930 AM
Visit the radio station's website to listen online.
When to Listen
It's a weekly show on Wednesdays from 4:30 to 5pm.
Their first show is this coming Wednesday, May 4, 2016
I am sure they would appreciate you listening.
I don't know if you can contact them during the show, but if you can, the radio booth phone number is 770-7408.
Break a leg Beverley and Michael!
And thanks for taking on this new adventure.