Playa Esperanza is an easy place to set up your new life in Panama.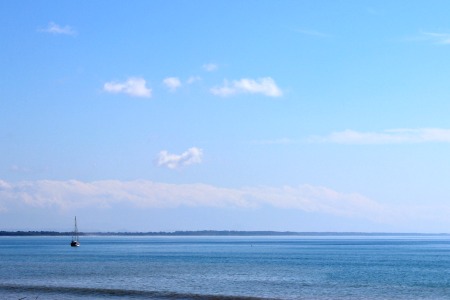 And a beautiful place to live.
Playa Esperanza is a quiet and intimate beach enclave of only 4 lots. (see site plan below).
It is only 5 minutes from downtown Puerto Armuelles. 
A custom home has already been built (and sold) on one of the lots.
The builders of that home, as well as other builders, are available to build your home.
We are also available to build you a Living In Panama House on these, or any of our properties.
Site Plan
Below is the site plan for this small beach development.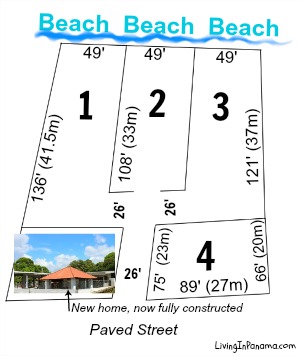 You can get more detailed info and photos for each lot by clicking the links below.
Beachfront Lot #1 –  Only $89,500
Beachfront Lot #2  –  Just $76,500
Beachfront Lot #3  –  $83,500
Beach Lot #4  –  Steal at $39,500
Where Is It?
Playa Esperanza is located in the San Vicente neighborhood of the charming beach town of Puerto Armuelles, Panama.
Puerto Armuelles is made up many distinct neighborhoods.
San Vicente is a beach neighborhood with large lots.
It is home to restaurants, small grocery stores, and 2 of Puerto Armuelles hotels: Big Daddy's Beach Club & Hotel and Tsunami Inn.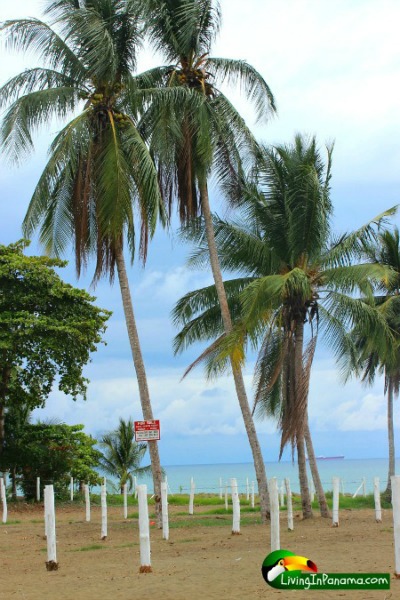 Puerto Armuelles – A Charming Beach Town
Puerto Armuelles is an increasingly popular place for both expat retirees and investors.
This is due, in part, to the near completion of the new 4 lane highway linking Puerto Armuelles to Panama's InterAmericana main highway.
The improved access has allowed many more people to discover the many charms of this wonderful beach town.
"Puerto" also stands out because of its unique look.
It looks very different from almost all towns in Panama. This is because, starting in 1927, it was built by Chiquita Banana. Chiquita Banana created the downtown and whole neighborhoods of tropical wooden houses on stilts.  They even shipped in wood from Oregon for these houses.
Puerto is a wonderful place to live. It is an ideal place to enjoy a relaxing beach lifestyle and retirement.
About Puerto Armuelles
Puerto has a real sense of place
Located right on the Pacific Ocean
Historic town. Built by Chiquita Banana, starting in the late 1920s
2nd largest town in the popular Chiriqui Province.
Everything you need, right in town
Although it is not yet a tourist destination, Puerto has features to attract recreational visitors, as well as retirees.
Horseback riding on the beach or in the hills
Surfing, stand up paddle boarding, or sea kayaking
Walks on the beach
Growing number of weekly expat get-togethers
Volunteer to teach English at local University and schools
Help with local volunteer spay & neuter animal clinic
Fishing (there is even a fishing lodge 30 mins away, Hooked on Panama)
Feed the monkeys at Mono Feliz (about an hour drive away on Punta Burica)
Help with turtle rescue at Tigre Salvaje (40 min walk past Mono Feliz on Punta Burica)
Whale watching in season
Day trips to Boquete, Volcan or Boca Chica
Bocas del Toro is only 5-hour drive away and makes for a fun weekend trip
River rafting opportunities and more nearby
Puerto Armuelles is a place where you can easily create a happy and relaxed life.
Come visit us in Puerto, and see if you agree with us.
About the Name
We named it Playa Esperanza in honor of Don Esperanza Coba, who lives next door.
Esperanza Coba is 94.  He is a very charming, happy and healthy man.  An excellent man to have as a neighbor.
Esperanza's home is adjacent to lot 4.
The photo (on right) of Esperanza and my husband Reyn, is bad of both of them.  But it is still gives you a sense of the people and the location.
Click On Any Photo To Start Slideshow.
Living In Panama House
Plus we have an easy way for you to get your beach house built.
Simply have us build one of our Living In Panama Houses on any of these 4 properties.
Our Living In Panama House is specifically designed for a tropical and relaxing beach lifestyle.
We make it affordable by leaving the finishes to you.
We can build you a house within 4 months of the start date.
Find out more about the Living in Panama House here.
Expat Community
Another bonus for this location is that it is close to at least 2 weekly expat gatherings.
This property is only a 3 to 10-minute stroll from the restaurants or hotels where these expat gatherings take place.
Property Tax Exempt
Another piece of good news is that this property will soon be exempt from property taxes.
On October 18, 2017, Panama passed a huge Property tax reform.  Starting in Jan. 2019, you will own zero property taxes on your primary home if you bought it for under $120,000.
So this property would be tax-exempt. (Assuming it is your primary residence in Panama).
You can find out more about 2017 Panama property tax reform here. 
Interested?
If this property interests you, catch a plane to Panama.
Check out the property, town, and Panama.
This is the only way you will ever find out if it is a good fit for you.
Please try to give me a heads up about when you are coming to Puerto Armuelles. That way we can set aside some out time to meet you. We enjoy giving people tours of property and town.
We love Puerto Armuelles, and you very well might love it too.
Next Steps
I recommend that you do the following:
Contact us to schedule a tour of the property and the town
If you don't already know if Panama is right for you, take our brief "Will I Be Happy in Panama" quiz. The quiz provides a glimpse into the various challenges you may experience in Panama.
Explore our site to learn more about Puerto Armuelles and get other FAQs answered
Keep in mind, that you really should spend some time living in Panama before you buy property.  You need to make sure Panama (and Puerto Armuelles) is a good fit for you before making a commitment to buy property.
Financing + Air Fare Bonus
We even sweeten the deal in 2 ways:
1) If you buy one of our properties, we will pay your airfare you spent to get to Panama. 
2) We offer to finance on many of our properties. Since it can be hard & time consuming for individual foreigners to qualify for a bank mortgage this is a great perk. Click for details of our financing and airfare bonus
Discover 10 good reasons to buy from us.
Even if you don't buy from us, we are always available to answer your questions.
We want to help you be happy in Panama.
---
Want To See This Property?
Click to let us know when you want to do a tour of the property & town. 
A summary of property details appears below
---
Learn about the "6 Steps to Buy Property in Panama".
---