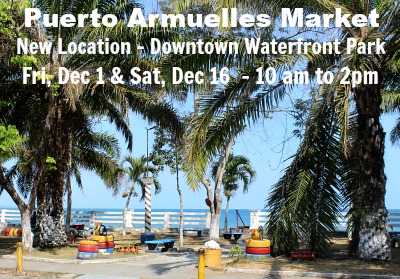 The Puerto Armuelles Market has been tweaked.
The 1st 3 markets were a success.
A change in day, time & location will make it even better.
New Location
The location is now in a more central spot.
It will be at the downtown waterfront park. 
The park is located between the bus station and the pier.
New Dates
The market no longer occurs on the 1st Saturday of the month.
Now it is coordinated with the typical twice monthly payday (on the 15th and 30th).
There will be 2 markets in December
Friday, 12/1
Saturday, 12/16
New Time
Most everyone seems to agree that the 8am start time is just too damn early.
Now the Market will be held from 10am – 2pm.
Most likely, the dates and time will continue to be tweaked. So check back toward the end of December.
Donate to Help Puerto's Animals
The market will continue to solicit donations for Los Animales of Puerto Armuelles.
There will be a donation can at each vendor's table.
Please give generously.
Learn more about Los Animales of Puerto Armuelles.
Support the Market
Buy and/or sell items at the market.
You can buy or sell plants, fruit, handicrafts, used and new items, and much more.
If you are selling, don't forget to bring your own table.
Watch a video of the 1st Puerto Armuelles Market here.