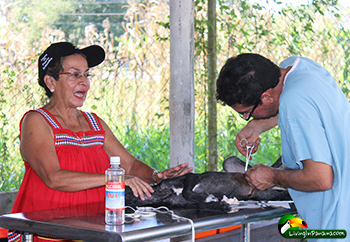 A group of 8 volunteers in Puerto Armuelles is dedicated to helping animals.  
They offer a monthly clinic to spay, neuter, vaccinate, de-worm, and more.   They are most concerned about preventing the spread of diseases.
Watch this interview with the organizer, Irma Guerra, and the volunteer veterinarian, Dr. Roberto Crespo.
How It Started
At first, an organization in David, Voz de las Animales, had conducted a monthly animal clinic in Puerto Armuelles.  But after a year they stopped.
Then Dr. Crespo asked Irma if she was willing to organize the monthly clinic in Puerto Armuelles.  If she was, he would continue to come down from David for the clinic. Irma was willing and Voluntarios Por Los Animales – Puerto Armuelles was born.
One of the volunteers owns Coco's place, a hotel in Puerto Armuelles, and that is where the clinic is held.
Voluntarios Por Los Animales – Puerto Armuelles has a facebook page.  
Please like it.  Upload any photos you have from the clinic, and let people know about this organization.
I am sure the page will expand and provide more information on how you can help as the organization grows.
How To Help
Help with any of the items below would be tremendously appreciated.
Volunteering at the clinics
Dog and cat food donations
Animal crates to transport animals and keep them safe
Foster homes for homeless cats and dogs
Money to help with the cost of helping street animals
Adopting & caring for a homeless animal
Collection Jars
You can also collect money for them.  To make it look official and consistent, they have a wrapper for you to cover your collection jar.
If you would like a collection jar wrapper, please contact Irma.  I had a downloadable version on this page but was asked to remove it.   The organization would like more control over who is collecting money using official-looking collection jars.
One woman taxi driver in Puerto Armuelles collects donations from her riders.  You can also donate at the clinic itself.  They have a collection jar at each clinic, ready for your generous contribution.
---
Important
If you station a collection cup in a location, you are responsible for collecting the money and getting it to Irma. You can always bring it to one of the monthly clinics.
---
Monthly Clinics
Saturday  – once a month – typically the 3rd Saturday, but call first.
8 am – 12pm
Cost of spay/neuter:  $12 cats, $25 dogs
Do not feed your pet for at least 12 hours before the procedure.
If possible, you should call to say you are bringing your animal to the next clinic.  Animals are seen on a first come, first serve basis.
Call Irma to make a reservation or to volunteer –  6230-3623
---
I went during the January 23rd clinic.   I had planned to bring our dog, Ziggy, to be neutered in the morning.  Unfortunately, my daughter forgot and fed our dog that morning.  I went by the clinic simply to say, sorry I didn't bring my dog, I will next month.
Both Dr. Crespo and Irma were wonderful to talk with.  I had planned on interviewing them sometimes, but not that day.  But there was a lull in their patients, they were willing, and it just felt right.   That is why the video is a little shaky and rough.  I didn't bring a tripod or microphone.   But hopefully, it is enjoyable anyway.
Adopt A Pet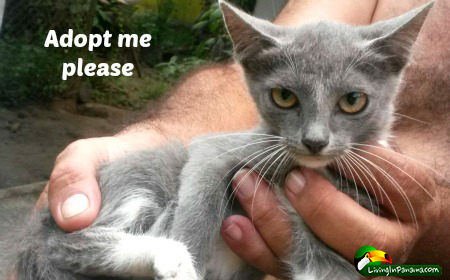 I happily accepted when Irma asked if I would publish photos of animals ready for adoption.
She will send them to me every month.
For instance, the photo here of a cat that is available to be to adopt now.
In the video, she stated she has 2 cats to adopt.  But I think one was adopted already.  This cat is only 3 months old and very adorable.
The 6 puppies Irma mentions in the video will not be ready to adopt until February 20th.   That is the day of the next clinic.  They will be spayed at that time.
So check back next month for photos of those 6 puppies for adoption.