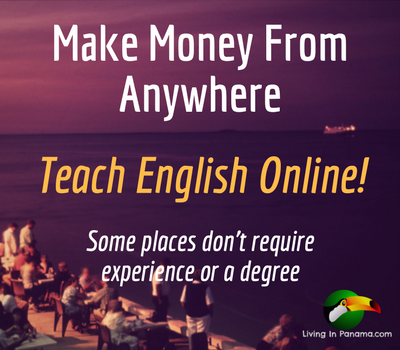 You can make money in Panama.
You don't have to wait to move to Panama until your pension starts or you win the lottery.
You don't need a work permit or even a residency visa in Panama to earn money online.  
And the easiest and fastest way to make money online is by teaching English. Well, at least it is for native English speakers.
---
You may also want to read a previous post I did.  How to make money in Panama
---
Teach English Online
For native speakers, teaching English is a fast easy option to:
Earn money
Have something productive to do
Help others
Meet people
Income
You aren't going to get rich teaching English, but you can get a comfortable income.  Obviously, online offers the most flexibility and portability.  Of course, you can teach in person or online. Also, if you want to teach in person you either need to get a work permit or fly under the radar.
Pay
In reviewing the options, the pay scale is anywhere from $8 to $45/hour.
Average pay that most online companies offer is from $10 – $15 per hour.
The pay largely depends on the company and the markets they serve. Well-developed Asian countries like Japan and South Korea are the best paying markets. Companies in China and South America pay significantly less.
How to Make More
Mike Wilbur from Toshuo.com states there are other teachers such as Gabby Wallace who have built huge personal brands and teach large numbers of students directly. Next in line are people with niche brands who teach groups on their own sites. Even tutoring one on one on a large company platform can turn out well.  Chad Hansen has earned over $100k tutoring individual students on Verbling. But remember, if you can't differentiate yourself, the wage floor is very low in an online market.
According to RealWaysToEarnMoneyOnline.com, the only way to make more than $20 an hour is to give group lessons. But there are caveats. 1) Finding and managing a large group of students is challenging 2) Requires web conferencing software 3) Need great marketing and time management skills. I have a friend who makes $100 per hour in a weekly class he runs on the WizIQ Platform, and he's not the only one. If you have an infectious personality and good marketing skills, this may be the best (and by far the most lucrative) option for you.
If you establish your own website, the suggested rate for an hourly one-on-one lesson is $20. You will find that some teachers charge less than that, but it easy to find students at this price. This is also the price that many of the established companies charge the students.  If you have your own site, you keep all of that $20.  If you work for a company, they take a cut of it.
Who Can Teach English Online
You don't necessarily need a degree or certificate.  However, you will have more and better paid opportunities if you do.
Little Age Discrimination
For older people, one of the great benefits is there is very little age discrimination when hiring people to teach English online.  This is a welcome change.  In fact, if you've been a teacher, being older and more experienced is an advantage.
Requirements
It varies, but generally you can find a job teaching English online if you fit the following criteria.
Native English speaker
Reliable internet connection that works for video chats (Skype, Zoom, Google Hangouts…)
Over 16 years old
Willingness to learn how to teach effectively
Able to get paid electronically (Paypal, etc)
Enjoy talking with people
You can get better teaching gigs if you meet any of the criteria below:
Have teaching experience
Are physically attractive, friendly and/or competent looking
Know how to market your services
Have a teaching certification or a degree
Know a language spoken by a lot of English learners (Chinese, Spanish, Japanese, etc.)
Have a very flexible schedule
Most people who are reading this article can teach online.
Types of  Teaching English Jobs
The company provides you with lesson plans and students
The company provides you with a pool of students.. You create your profile and lesson plans. You market to the company's students.
You do all the work.  Build a website, create lesson plans, and find your own students
Obviously, the first bullet above is the easiest and fastest to use when you are first starting out.  But as you gain experience, and perhaps even a following, you may decide to graduate to the other teaching options.
Where to Teach
There is an enormous number of companies you can work for teaching English.  I have a link to a large list of them toward the end of this page.  Before you apply to work for a company, make sure you do some research.  While many companies are legit, there are some scams and some just plain bad places to work.
Mike Wilbur from Toshuo.com gives this advice to job seekers when considering the 4 largest online teaching companies.
Advice
He says start with:
TutorABC & Italki (as an informal teacher) – if you're living someplace cheap and don't have much experience teaching
Verbling & Italki (as professional teacher)  – if you have more teaching experience
Udemy – if you have time, don't need to make money right away, and can create good teaching videos.  You can create a passive income and start building your following.
Offline – if you want to teach but have no experience and no savings
Timezones
Keep in mind in which the country most of your students will reside.  Most companies have a particular country or region they cater their lessons to.  Timezones matter.  For instance, China is 13 hours ahead of Panama.  As you'd imagine the peak teaching times will be evenings and weekends, China time.  6 pm in China is 5am in Panama.  It is hard to get students, if you are in bed when they want to learn.
Online Companies
Keep in mind, the information on their sites are not always up-to-date.  If you feel a company is perfect for you, but it looks like you don't qualify, don't hesitate to email them and ask.  Sometimes things are more flexible than it appears when reading the website.
italki – Register as a teacher or an informal tutor. You set your own hours and pay rate. Teachers make $15-20/hr, Informal tutors make $13-$17 per hour. Italki takes 15%.
OpenEnglish – mostly be teaching students from Latin-American countries (see video link below)
TalktoCanada  – You must be Canadian. You prepare and teach lessons. Classes take place in a Webex meeting room which includes a whiteboard and a screen-sharing function.
TutorABC – They hire teachers on an ongoing basis. You follow their lesson plans. They encourage conversational style teaching.  Pay $10/hr
Udemy – instructors record videos and upload them to Udemy to be watched by any students that purchase the course. Then students can interact with the teacher via forums integrated into each video lesson on the platform. Ratings are critical.
Verbling – Teachers set their own price. Verbling takes 15%
VerbalPlanet – You create your professional profile including your skills, experience, qualifications, availability, and price.
VIPKid – teach children in China. The website says you must reside in the US or Canada, but that is not so.  I emailed them and you can teach for them no matter where you reside.
WizIQ – This is a web-conferencing website that allows teachers to create public classes that multiple students can join.
---
Watch this video of an expat's experience getting a job with Open English.
---
English Teaching Apps
Newest to the game are app based online teaching.  Here are 3 of them.
Palfish – All work is done directly from the app. No special requirements needed to use it and earn money, you just need to be a native English speaker.
NiceTalk – Available for both iOS and Android devices. It was originally designed for Chinese students learning English. The only requirement is to speak English at a fluent level. $10/hr. NiceTalk pays you by the minute, so a 15 minute session earns you $2.50.
Boxfish – App was developed in China. You need to apply and interview.  Pay $20/hr (see review below)
---
Read about Beverly's experience teaching English online with Boxfish
---
The Big List
The above is only a handful of your options of where to teach English online.  Mike Veenstra of GoodAirLanguage.com keeps an updated list most of the vast array of companies you can work for.
It includes short descriptions, including pay range, of the companies.  He also categories the list by which country the company is based in, as well as the companies for which you create your own teacher profile and market to students.
---
Interested in living in Panama?
Find out more about our charming beach town of Puerto Armuelles
Already in love with Puerto Armuelles? Check out our properties for sale.
---
Sources