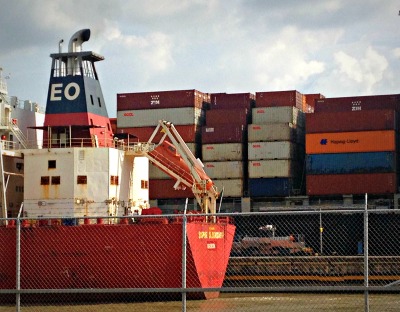 If you look online, there are dozens of articles about shipping container construction.
In this post, I explore containers as housing in various locations, including the tropical climate of Panama.  
I am particularly interested in ways to keep a shipping container's living space cool, comfortable, and affordable in the tropics.
Price of Containers
I recently heard that you can buy a used shipping container in Panama, delivered to your site in Puerto Armuelles, for under $3000.
This price appears to fluctuate widely based on the global economy.
When business is booming, containers are scarce, and thus expensive. When markets are down, there are more abandoned containers since there are fewer goods to be shipped.
Benefits of Shipping Containers
Easily obtained
Secure against intrusion
Impervious to insect infestation
Made of sturdy thick corrugated steel
Standard sizes – easily stacked, used side by side, many combinations
Can be cut, welded, and modified
My Experience with Containers
As far as shipping containers are concerned, I do have a bit of experience. I have both fixed up a container as a basic living space and visited some high end container living spaces.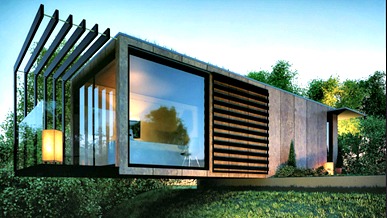 High End Container Living
A couple of my Seattle designer/builder friends have created  "gourmet" shipping container buildings.  I have visited those units.  So I have experienced how a shipping container can be transformed into an artistic home.
One of my friends, Hartman Kable, created a modernistic take on the surfer "shack" using a shipping container. It has been featured in various magazines, including Make Magazine's video below. The publicity earned Hartman a trip to the east coast to do another similar project for a high end client.
I like that Hartman kept the look of the container.  He didn't radically transform the container so that it was hard to see that the base building material was one or more shipping containers.
Hartman gives a tour of his cool container surf shack in Make Magazine's video below.  I'd recommend skipping their very long intro and going directly to Hartman's tour at minute 1:25.
(Note, Hartman built this on the Olympic Peninsula in Washington State, which has a very different climate than Panama does. You would need to add air conditioning to use something like this in Panama.)
Basic Shipping Container Housing in Alaska
When I was commercial fishing in Alaska, I spent 2 summers living in a shipping container.  The container was delivered and leveled right next to the cabin of my employer.  This was on the bluff above the mouth of the Egegik River on Bristol Bay in SW Alaska.
One of my pre-season projects was to outfit this 40' container as a combination net shed, work shop, and crew quarters.  The remodel had to be simple because of our very limited supply of building materials.  We had to use what we had since we were out on the tundra above Bristol Bay, about 200 miles away from Anchorage, .
The container was an insulated refrigerated model with teak paneling and floor. (Note: most containers are not insulated). It cost $1000 at the time, delivered to our site.  So it was affordable. Certainly cheaper than building a similar structure out of more typical materials.
In our wide open, cool, windy tundra base camp, the container was perfect. I put a heater in it.  I easily stayed warm.  I slept very well since I was always exhausted after the days work.  (A long day being 20 or 30 hours of fishing without sleep.)
The container was a secure cocoon in an environment where the wind often blew 50 miles an hour. Our summertime high air temperature was usually around 50 degrees Farenheiht, and the water temperature was in the mid to high 40's.  In a word, my container building was "snug".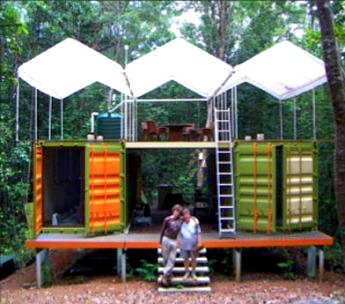 Shipping Containers in the Tropics
Conversely, in our tropical environment here in Puerto Armuelles, "snug" is not a good thing.
If you look at an indigenous tropical hut, what you will observe is a roof and support for that roof. Not much more. There might be some lightly woven mat walls or bamboo to provide some privacy from neighbors, and a little extra shade.
Generally a good building type for the tropics is a lot like an umbrella. Shade, Shade, Shade, plus, protection from the rain.
In a perfect tropical world, walls are not necessary at all.  They are a hinderance to air flow and evaporation. We northerners mostly like them, because they afford privacy, and security.
In fact, while Panamanians are often cold at night and in the early morning, most northern immigrants, except in the highlands, do not require walls for warmth. Our need for walls is generally for privacy, security, and in large part, because we grew up in houses with walls. We just think that houses "should" have walls.
How To Keep Your Container Cool
The challenge is how to make a cool and comfortable container house in Panama.
The easiest way to do this is to keep the sun off your container.  Solar gain is the biggest factor in hitting up your container home.
A site called containerhomeplans.org specifically discusses what to do to keep your container cool in Panama and elsewhere.
Don't let the sun touch it! (i.e., Use shade trees and a reflective roof superstructure over the container.)
Install white shades or blinds to keep heat out
Open windows and shades in evening to invite in cooler air
Use low-heat florescent light bulbs, not incandescent
Use properly placed box fans to pull in cool air and push out hot air
Design your container home to cool naturally (e.g. see photo of South African classroom)
Read more details at containerhomeplans.org here and on this page.
Air Conditioning, Ventilation & Security
As I have mentioned, ventilation and air flow is a huge factor in keeping living spaces cool.  Tropical houses are typically designed to maximize air flow for this reason.
To achieve adequate cooling air flow in a shipping container, requires that you modify the container.  One example of what that could look like is seen in the South African classroom photo.
However, if you like the idea of closing up the container as a secure pod, you cannot do that.  (Watch the video above to see how Hartman is still able to secure his container using the original container doors.)   You will need to use air conditioning. You may even want to use a portable air conditioner so you can safely store the A/C unit inside the container.

Successful Container Housing In Panama
People have been successful in creating container housing in Panama.   A couple who created a home using multiple shipping containers near El Valle, Panama. They detailed how they built it in their blog.
It took them 5 years to create their container home (see photo).  In the end, the amount of work they did to create their container house means that it is not the cheap and easy option that attracts so many people.  They are currently selling their home for more than half a million dollars.
My Opinion
In short, my opinion of shipping container construction in low-land tropics is low.   I don't enjoy living in air conditioned spaces with low ceilings.  It seems clear that without a tremendous amount of work, that is the type of container house you must live in here.
I don't think using a shipping container is a good option for a pleasant home here in Panama.  You can build a much more pleasant Panama house using cement – and it is affordable.  You can either use formed and poured, or concrete block (the most common method) for your new home.
Containers do make great tool or other storage, if you can find one at a good price.  Keep in mind that, if left in the sun, the interior temperature of a shipping container is likely to reach 160 degrees Fahrenheit.  Of course, you can build a roof over your shipping container to provide some protection from the sun.
If anyone has more information, contacts, or websites to share, I am certainly eager to learn more about shipping container construction.  I think our readers would also be interested.
---
Learn about other building material options for your house in Panama