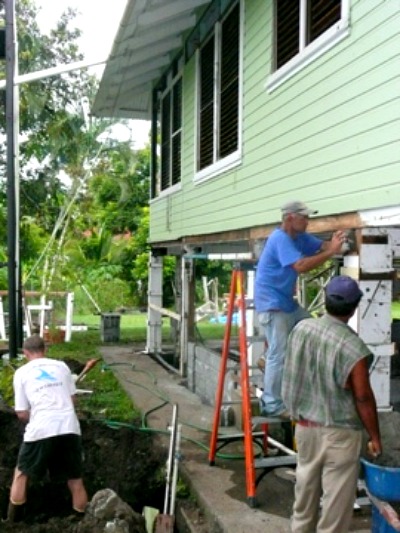 For over 20 years, I was designer and builder in Seattle.  So I am very familiar with 2×4 "stick" construction.  
And the 1st building project I did in Panama was wood construction.  I bought and remodeled an old Chiquita Banana house in Puerto Armuelles.  It is the house we live in.   However, remodeling a wood house in Panama is not something I would do again.  
2 Main Reasons to Avoid Wood Construction in Panama
Termites
Lack of workers skilled in building with wood.
Wood Use in the Highlands 
Wood is a great way to build in the highlands of Panama, such as in Boquete and Volcan. Or a place where there is a desire for an insulated wall cavity to contain fiberglass insulation. In the highlands, builders are pretty familiar with wood construction methods, so finding good carpenters is possible.
Why Wood Is Not Best Choice
On the warmer coast of Panama, unless you are air conditioning the whole house, the insulative quality of a 2×4 cavity is not of much benefit.
Having adequate ventilation is far more critical in the warmer lowlands of Panama.
Moisture can collect in unventilated wall insulation.  This leads to wood rot and provides a breeding ground for unhealthy mold spores.
Pressure treated wood
As I mentioned, a key reason not to build with wood is termites.  Termites are more pervasive in Panama's warmer coastal regions than in the highlands.  To be fully protected from termites, any wood used in construction needs to be pressure treated with arsenic, or some equivalent insect repellant. This means that the entire wood structure of your homes would be built of a highly toxic, non-environmental safe material.
If this is not an issue for you, chemically-treated wood is available in nearby David.  It is usually imported from Canada. Keep in mind, that it is expensive.
Pest resistant hard wood
You can use locally available hard woods that are naturally more resistant to pests, but they are just resistant, not impervious. You will have to tend to your wood on regular basis by injecting poison where you see evidence of termite infestations.  If you don't do that, your house will slowly be eaten from the inside out.
Wood is definitely not a low-maintenance or low-cost building material choice in Panama.  For all these reasons above, we are not using wood as our primary construction material in our Living In Panama House.
Need for Roof Insulation 
Keep in mind, whether you build with wood or not, roof insulation as protection against thermal gain from the sun is needed in both the highland and lowlands of Panama.  Solar gain is the main source of the excessive heat in the tropics.
A Good Compromise – Concrete & Wood Together
Having said all this, if I were to build a two story structure, I would use both concrete and wood.  Concrete for the 1st floor and pressure treated 2x's for the 2nd floor.  The upper floor would be mostly open air with very little wall.
Benefits of using wood and concrete together
Protection from fire, bugs and mildew that concrete provides
Pleasant wood floor walking surface, more give than concrete or tile
Contrast of materials would add more visual interest
Costs More to Build & Maintain
A house built with both materials is more costly.
Wood is more difficult to work with so your house will take longer to build
Time needed to switch construction materials, techniques & tools mid-project
Need to change entire crew – at minimum switch from masons to carpenters
Requires more maintenance than a fully cement house
Also, finding skilled carpenters in Panama is more of a challenge than finding skilled masons.
We like Wood & Cement Structures
Our family likes the ideas of a multiple story house made of wood and concrete. We are toying with building ourselves a 3 story "tree house" on one of our lots by the beach.  Of course, we have to assess how much effort we are willing to put into the endeavor.
Remodeling Wood Homes
We are not the only expats who have chosen to remodel a wood house in Panama.  There are a few other expats in Puerto Armuelles who have remodeled one of the 2×4 framed Chiquita Banana houses. I believe each of these owners had a lot of construction experience in the US, prior to moving to Panama.  So the wooden houses appeared to be familiar terrain to them.
In each case, the owner-builder ended up either doing much of the carpentry himself or had to train his crew from scratch.   This is because the labor pool knew nothing about high quality wood construction.  Alternatively, they had to accept a grossly inferior product from an incompetent local carpenter.  Most of these projects resulted in a combination of the 3 methods above.
One fellow, who is doing a beautiful job remodeling a house in our neighborhood, has been working on his house for over 3 years, and it is still not finished. This fellow is a superb craftsman and the house project is beautiful. However, from my point of view, it is too much money and too much effort. I have spoken with this guy many times over the course of the project. He has said that he would not attempt the project, if he had it to do over.
Our own situation is not dissimilar, although we did not forge ahead quite so doggedly. Our own wooden Chiquita house remodel is only half finished. After six months or so, I finally just fired the crew.
Today, I don't think too much about my half finished Chiquita Banana House. If I do think about it, I see 2 possibilities for our home.  1) I will complete the project myself, over time, rather than employ locals to do the finicky carpentry. 2), more likely, we will continue to live in the half-remodeled structure.
Our house works fine as it is. In fact, we love to live in it.  It feels sort of like living in a huge, well-ventilated artists loft apartment. We have loads of space (about 3500 square feet on two floors).
Not finishing my wood house remodel allows me the time to focus our construction efforts on our beach properties. As a rough comparison, I estimate that I can build 5 or 6 open air, concrete beach houses in the time that it would take to complete the remodel of our wooden Chiquita Banana House.  Plus, I think concrete construction is a lot more fun and a more productive use of my time, money, and creative energy.
If you do decide to use wood to build your house, you may want to go the wood and concrete route.  Except for the posts, and ceiling structure, the whole bottom floor of our Chiquita Banana house is made of concrete.
Tips for Cement & Wood Construction
Maximize ventilation on both floors.  Use open metal work as some of your downstairs exterior walls is a good solution.  Walls of open windows upstairs, the original Chiquita solution, also works well.
Build your kitchen on the bottom floor.  Chiquita had put all the kitchens on the 2nd floor.  We love our downstairs kitchen.  Because of our open metal work walls, having the kitchen downstairs keeps the house cooler.  We feel more connected with our outdoor spaces while dinning.
Have you build with wood in Panama?  Please share your thoughts and experience in the comment section.
Learn about other construction materials by reading these posts