The Tsunami Inn is a small expat-owned hotel.
Tsunami Inn is located in the San Vicente neighborhood of Puerto Armuelles.
It is across a quiet dirt road from the beach.
About
This hotel is centered around its pool and central "hang out" gazebo (see photo). You can stay in one of its  6 colorful cabanas. They are small, but an adequate size.
The front cabins, pool and gazebo face the ocean.
---
Note: Some guests who have stayed here have told us that it appears the owners have a financial arrangement with 2 local real estate people. After you arrive, don't be surprised if one of these 2 "realtors" shows up.  I advise taking your time.
---
Horseshoes
You can play horseshoes here.  They have a regulation horseshoe pit set up right by the swimming pool. One of the owners, Scott, is a champion horseshoe player.  On most Sunday afternoons they have a horseshoe game for hotel guests and locals.
Hotel Features
Swimming pool
Wi-Fi Internet
Air conditioning
A horseshoe pit
A community horseshoe game every Sunday afternoon
A beach just across the road
An apartment to rent for longer stays
Secure parking
About the Cabins
Double bed
Air Conditioning
Bathroom
Hot Water
WiFi Internet Access
Mini "Kitchen" – a tiled counter with sink and microwave.  Some have refrigerators.
---
---
To tour affordable property for sale in Puerto, contact us.   You can start exploring property for sale here. We also have a listing book at the hotel.  Ask Scott to see it.
---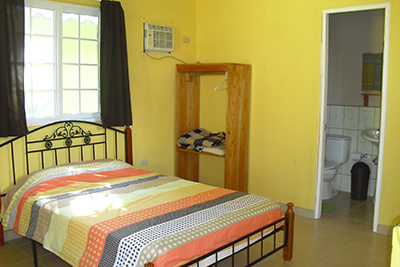 Reservations & Payment 
To make a reservation, it is best to email them.
Make sure to call or email them the day before to confirm that you are coming.
You don't pay until you arrive.  They only accept cash.
Cabin Rates
Low Season – $50/night  or  $300/week
High Season -$60/night or $360/week (December – May)
Apartment (long-term) Rate
$450 a week   $800 a month
The apartment is 1 bedroom, with A/C, wifi, full kitchen, dining area, bathroom, and separate entrance and parking space.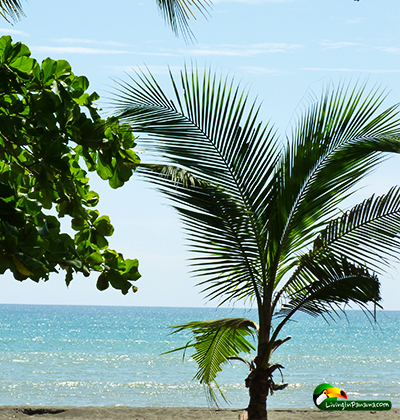 Hotel Contact Info
Email –  [email protected]
Phone-
6604-9369 – Scott in Panama
6814-3747 – Albanis in Panama (para reservaciones en Español)
Add the country code 507, if you are calling from outside of Panama
602-507-7841 –from the United States
Some Rules
Only 2 guests per cabin
No children allowed. Only guests at least 18 years of age are allowed
No pets allowed
---
Learn about other accommodations in Puerto Armuelles Panama
Find out where you can eat in Puerto Armuelles
---
Have you stayed at Tsunami Inn?
Tell us what you thought of it below.