Have you been to Restaurante El Pulpo yet?
It's in the Rio Mar neighborhood of Puerto Armuelles.
Last week, our friend Victor adamantly declared that Pulpo was,
"hands down the best restaurant in Puerto Armuelles."
So our little family of four ventured out to try the dinner fare at Restaurante El Pulpo (The Octopus).
Location
The restaurant is on a quiet street in the Rio Mar neighborhood.  It is just one street behind the waterfront houses.
Which is the street that has the short one-lane bridge going from Pueblo Nuevo/Downtown to Rio Mar.  It is about 500 meters past the bridge, on the right- hand side of the street.
That one-lane bridge used to be known as the "bridge over the stinky little slough", before work on the new and improved sewer system for Puerto Armuelles began early in 2015. While the sewer system is not quite finished yet, the family didn't notice any odors when we crossed the bridge.
There is a sign out front announcing "El Pulpo, so you won't miss it. (see photo above.) There is plenty of on-street parking, since this part of the road is off the main thoroughfare.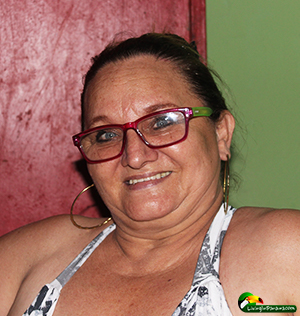 The owner, Cinia, is outgoing and friendly.  She only speaks Spanish.
The Food
We went with Cinia's recommendations, ordering a plate of Mariscos Mixtos (Mixed Seafood) in salsa, as well as a plate of camarones al aljillo (shrimp in a garlic sauce).
The four of us weren't too hungry, so splitting the two meals was plenty of food.
We were quite pleased with our dishes.
There was ample succulent seafood, including shrimp, mussels, fish, squid, and yes, pulpo (remember, "pulpo" means octopus).
The seafood was a little greasy though.  You didn't notice the grease so much as you ate it. It just tasted delicious.  But afterwards, our bodies let us know we had consumed more grease than we were used to eating .
The side dishes were the usual, meaning french fries and Patacones (fried plantains). As usual, there were no vegetables offered, other than steamed Yucca, a starchy root vegetable, and a tiny garden salad of iceberg lettuce, tomato, and onion.  However, the presentation was pretty nice, for a budget Panamanian restaurant.
Click on a photo below to enlarge
Hours
It is open 7 days a week from noon to 11pm.
Conclusion
El Pulpo seems like a good quality, economical place to eat lunch or dinner.  Overall, our family enjoyed our dinner and chatting with the owner, Cinia.
We would definitely recommend this restaurant as a good addition to Puerto Armuelles' still rather limited list of dining out options.
Thanks for the tip Victor!  
Victor is an ex-pat who lives in the Corazon de Jesus neighborhood.
If you decide to give El Pulpo a try, please let us know what you think.
We'd like to know if it is consistently good, how the service is, etc….
Thanks!
Betsy will be adding this to our site's list of Puerto Armuelles dining options.