February 12, 2019
President Varela was in Puerto Armuelles yesterday.
He celebrated the 1st shipment of bananas by Banapiña.
3 thousand boxes of bananas were shipped to the US.
Puerto's bananas production is finally in gear again.
Background
As I've mentioned in previous posts, it has been a long and complex process to find a company to rejuvenate bananas as an economic force in the area.
At one time, under Chiquita Banana, bananas were called "green gold" in Puerto. But then Chiquita left in early 2000s, and a cooperative called Coosemupar took over. However, for many reasons, Coosemupar did not thrive and finally collapsed in 2010.
Starting in March 2018, Banapiña (a subsidiary of Del Monte) started planting bananas on the former Chiriqui Banana plantations. Now their first crop is being shipped to the US.  Very exciting.
The Shipment & The Pier
This first shipment will not use the old Chiquita pier in Puerto. This is because Puerto's pier is in terrible shape.
Or in political speak:
"The company decided to do a little economy of scale, because the port of Puerto Armuelles has to be adapted to use it," as the head of the Ministry of Agricultural Development (MIDA), Eduardo Enrique Carles, said yesterday.
Therefore, the bananas were trucked to the port of Caldera in Costa Rica, where Banapiña manages other production lines.
There have been many rumors that the pier will be renovated.  Maybe that political speak was suggesting that as well? It is hard to tell.
Economic Banana Boom News
Job Creation
So far, the new banana production has created 300 direct jobs and 200 indirect jobs. Over the next 6 -7 years, at least 3,000 new people will be hired.
And more jobs are only part of the banana industry's boost to Puerto's economy. The economic ripple effect of this new workforce plus all the other people needed to support the growing and shipping of bananas will spillover into Puerto and the whole province of Chiriqui.
Production of Green Gold 
This year alone, Banapiña plans to export 1.4 million boxes of bananas at a rate of 15,000 boxes per week.  It will be exporting these bananas not only to the US, but to the Netherlands, the United Kingdom, Germany, and other markets.
Of course, that is nowhere near the high of banana production in the 1990s when Panama exported around 42 million boxes of bananas per year, with a total export value of $ 200 million.
Panama's bananas produced for export are grown in the provinces of Bocas del Toro and Chiriqui.  Over the last 2 years, bananas accounted for 15% of Panamanian exports.
Currently, Bocas del Toro's banana production has a profit of  $120 million.
A major investment is underway to fully rejuvenate Chiriqui's banana production over the next 7 years.
Most likely, Baru's banana profits will at least equal Bocas del Toro's.
So it looks like our area can look forward to getting a $120 million dollar shot in the arm in the near future.
---
What type of bananas? So far, Banapiña has planted the Grand Nain variety of bananas. According to Wikipedia, that type is also called the Chiquita Banana because it is the banana they mostly cultivate.
---
More Than Just Bananas!
As government officials are always pointing out, its investment in Baru's economy targets more than bananas.
---
Note: Baru is a district within the Chiriqui province of Panama. Puerto Armuelles is the principal city of Baru. Puerto is also the 2nd largest city in Chiriqui.
---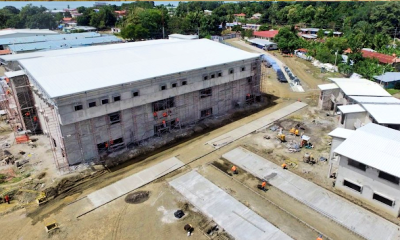 The government has invested in 15 projects in Baru, including the following in Puerto Armuelles.
Construction of the new hospital Dionisio Arrocha in Puerto Armuelles. (read more about Puerto's new hospital)
Upgrades to the Puerto Armuelles highway
Renovation and equipping of the Glorias Baruenses baseball stadium (This stadium is in the Rio Mar neighborhood. It is Puerto's biggest baseball stadium, the only one with lights, and is home to its own major league baseball team, Chiriqui Occidental.  Find out more about baseball in Panama.
Complete renovation of the baseball stadium in San Vicente neighborhood.
Rehabilitation of the PTP – Limones highway.  (The PTP is just outside Puerto Armuelles heading out to Punta Burica. Limones is on Punta Burica.)
Repair of roads in some of the more rural neighborhoods of Puerto Armuelles (ie., Agua Buena, Quebrada de Piedra, Monte Verde, Asentamiento San Bartolo, Los Planes, and Camino de los Plancitos)
That list doesn't even include 3 other renovation projects in Puerto.
Construction of a new public market in downtown Puerto Armuelles
New sewer system with pumps out by the PTP (Punta Burica)
Renovation of the airport
Maybe we will get a revived pier too? Fingers crossed.
Conclusion
It seems clear that the economic outlook of Puerto Armuelless is looking ever brighter. From our point of view, we are experiencing a steady increase in emails, calls, and visits from people interested in moving to Puerto Armuelles.
It looks like the President's proclamation that, "Puerto Armuelles is reborn", is happening.
---
Back To Bananas. My daughters made a video exploring the bananas in our yard.  You may want to check it out.
---