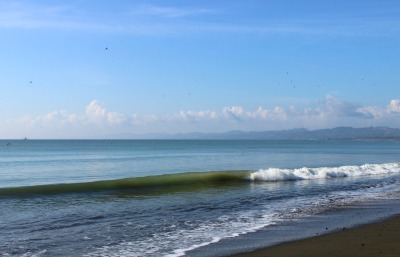 Jan. 26, 2017
I just got back to town a few days ago.  
I immediately remembered why I love Puerto Armuelles so much.
On my very first morning, I went to the beach at Corazon de Jesus on for a swim.
Morning At the Beach
I had been told that the November rains were heavy this year and that there was still a lot of drift wood on the beach.  However, to my eyes it looked pristine and beautiful.
I had been away for over three months this trip.  I had been spending my days in a very cold, grey, and rainy Seattle, so I was not aware of anything other than a perfect morning at the beach.
I was the only one out.  The gentle curve of the beach was an empty crescent. Just the sand, nearly mirror flat, the early morning ocean, and I.
I took a short swim, which was plenty. (Note to self: I am really out of shape). But, man did I feel wonderful! The water was probably a warm 80 degrees, or so.
Visiting
After swimming, I decided to go visit some of my neighbors on the beach.
There are several ex-pat residents in the Corazon de Jesus neighborhood.  I was especially interested in talking to a couple of these folks who are doing construction on their homes using local contractors.
I enjoyed hearing about their experiences with the various contractors and sub-contractors.  I will write about what I learned in a future post.
New Faces & the Puerto Bug
In the few days I've been back in Puerto Armuelles, I am noticed a number of new northern faces.
One woman, who had just ended a Panama relocation tour, made a special visit to Puerto.  She said that she heard about Puerto Armuelles on our site, and wanted to check out for herself.
She says that she has "caught the Puerto bug".  We'll see if she decides to join us in Puerto soon.
Several of our visitors have visited Puerto more than once to "check it out" and are now expressing interest in buying. Most of our recent buyers are either from Canada or from northerly parts of the US.
A few folks have decided to rent homes in Puerto, rather than buying.  Hopefully more rentals will continue to come on the market to meet this growing need for long-term rentals.
Del Monte
Some big news is that Del Monte may finally be coming to Puerto to start up banana production this June 2017.   At least this is what the news media here tell us.
My most skeptical Panamanian neighbors here say they will only believe Del Monte is coming when they have peeled and eaten a Del Monte banana that was grown in the soils of Puerto Armuelles.
We all hope Del Monte really does come to Puerto. The town will benefit from the mostly working class jobs that Del Monte will provide.
Tipping Point
However, as far as the arrival of ex-pats and any tourist industry here are concerned, I do not think that Del Monte will have much effect.  I believe we have passed the "tipping point" and growing appeal of Puerto Armuelles to expats and Panamanians alike is certain.  It is already happening.
But don't believe me: Come visit and see for yourself.  Who knows? You might "catch the Puerto bug" too.
---