We have been telling our readers for over a year now, that Puerto Armuelles is on the cusp of a big bump in growth.
The type of growth & investment that some other parts of Panama started to enjoy 5 or 10 years ago. 
It seems we were right.
Below is a partial list of some recent positive developments in Puerto
(Please note: We are investors and builders here.  Plus we really love our town.  So our views are bound to be biased. We encourage you to ask others familiar with Puerto Armuelles for their views).
Del Monte
Obviously, the biggest news is that Del Monte is actively preparing to use the old Chiquita Banana plantation lands.
We are told that work has already begun to restore the plantations to an arable state.
All signs seem to point to Del Monte successfully setting up shop here in Puerto Armuelles.
However, I tend to agree with my Panamanian neighbor, who says he won't truly believe that Del Monte is coming to Puerto Armuelles, "until I have tasted my first locally grown Del Monte banana".
The issue is that there is too little access to reliable news about this deal. For the most part, you need to rely on what you read in the political party-controlled national news.
Please read our other posts on Del Monte in Puerto Armuelles.
Regardless, I believe that there is much more than "just a banana deal" underway in Puerto Armuelles.
New Hospital Underway
It has recently become more difficult to find a good mason in Puerto Armuelles. This is good news.
The reason for this is because the construction of a modern new hospital has required the hiring of numerous skilled masons, electricians, plumbers, welders, etc…
This project is predicted to take two years to complete.  Read more about Puerto Armuelles new hospital here.
I am looking forward to rehiring one of my favorite masonry workers when the masonry phase of construction at the hospital is complete.
Water & Sewer Improvements
All of that digging up of our local roadways appears to be bearing fruit, as the improved fresh water supply and waste water removal systems are starting to come online.
Granted, the final waste water disposal plant, a couple of miles south of town, is not yet up and running.  But, there is noticeable improvement to our fresh water supply, and pressure. It seems almost inevitable that both systems will soon be complete.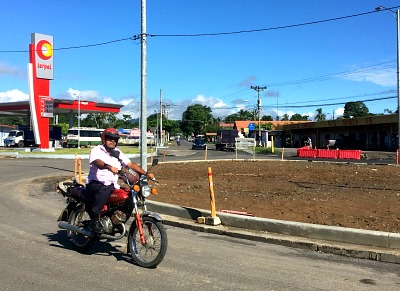 New Service Station
At the entrance into town, there is now a big new Terpel brand gas & service station.
This might not seem too significant; after all it's just a gas station.
However, when the main national fuel brand decides to build a large new gas station, with a mini mart and an automotive repair shop, right at the main entrance to a town, it's a good sign for future development.
I imaging that the executives at Terpel are privy to more development information than the rest of us. The fact that the big players are purchasing strategic pieces of Puerto Armuelles, can only be considered a positive growth indicator.
Major Traffic Circle
The gas station was completed late last year. Now, almost suddenly, a large traffic circle, right in front of the gas station, is nearly complete (see photo).
The traffic circle (or roundabout) is a good choice for this busy 3-way intersection.
Unlike past traffic improvements, the traffic circle looks like the kind of quality forward-thinking decision that is made when it is known that car traffic will definitely be increasing. The last time that this sort of planning took place in Puerto Armuelles was when Chiquita Banana Co. was here.
Retail Expansion
As I have mentioned in previous posts, in 2006, when our family arrived in Puerto Armuelles, literally a third of the downtown retail shops were closed and their store fronts covered with plywood (the look was like New Orleans, post Hurricane Katrina).
Fast forward 11 years:
Pretty much all the retail spaces are now occupied
Small businesses are remodeling to maximize their existing spaces
Businesses are now expanding into nearby vacant space
Once sparsely stocked shelves, now are stocked with as much merchandise as they can hold
Non-Portaneos are coming to town to start new businesses.  For example, a Panama City family moved here to open up 2 pizza restaurants in town, Mas Pizza.
In all cases, it is crystal clear that local business owners are now willing to invest in their town again. In my conversations with local business owners, they have told me that they now feel confident about expanding their business and even opening new ones.
So it is not just Del Monte and the Government investing in Puerto Armuelles. It is local and outside of Puerto business people too.  Private investment of this scale builds its own momentum.
It seems clear that Puerto Armuelles is on an up escalator.
More For Rent & For Sale Signs
Another sign of the increased activity in Puerto is the very noticeable increase in the number of the 'For Rent' signs you now see. As well as a few more 'For Sale' signs.
In the past, people who were looking for a rental, just asked around.  News of rentals was mostly word of mouth.  There weren't many rentals, but there weren't many people looking for rentals anyway.
Now that has changed.
A new influx of Del Monte employees are coming in, and more are expected. But it is more than Del Monte workers. More people, both expats and Panamanians, are coming to Puerto Armuelles looking for rentals. As well as property to purchase.
So now people who had not considered being landlords, are preparing vacant houses for rent.  Landlords who have rented out houses, are now turning those houses into duplexes to capture the increased demand.
Also, since there are now there are more buyers, more sellers want it to be known that they are willing to sell. That is why you see more for sale signs as well.
Of course, many people here do not want to sell.  People here generally love Puerto Armuelles. As a general rule, Portenos only leave Puerto if they cannot find work here.
More Places To Eat
Along with the increased demand for services comes, obviously, an increased demand for places to dine out.  There have been new restaurants sprouting up all over town.
Of course, not all are of a quality that is of interest to most expats. However, there are a few good, but not great,places to eat out.
Most recently, we have a new chain restaurant, Rosti Pollo.  I have not eaten there yet.
Yoga Retreat
I could add many more development details. But I will close with a couple that appeal to me personally.
First, there is an expat woman, Joan, who is opening a yoga retreat center here in Puerto Armuelles. She is opening it in partnership with the Tsunami Inn, which is located in the San Vicente neighborhood.
Joan is a yoga practitioner who was looking for a retirement business, as well as a retirement location that really attracted her. She chose Puerto Armuelles.
Betsy and I have both taken yoga classes in the past, so we are especially interested in the arrival of such an opportunity.   Please see Betsy's video interview of Joan here.
Marine Opportunities & Saturday Market
I recently learned about another great development.  Milton Hutto, owner of Heavenly's Hotel, is purchasing a 30′ boat for use by visitors. I did not ask him for details when he mentioned this, because we were having a planning meeting for the upcoming Flea market/artisan market on September 2 at Heavenly's Hotel.
Which is anther sign of the times.  On the 1st Saturday of every month, Puerto Armuelles will now have a artisan & flea market. The first one is in just a few days, Sept. 2nd, 2017.  You can learn more about The Puerto Armuelles Saturday Market here.
I am thrilled that Milton is getting a boat as a first step to kick off a marine tourism business here in Puerto Armuelles. In addition, he will be creating a  floating dining area, on the sea, just outside his hotel/restaurant.  His hotel is located in the San Vicente neighborhood.
Our Plans
We have plans to open a small boat launch at the Corazon De Oro development. However, we are waiting to see how many people are interested.  We have already heard from 5 or 6 that say they are.
Currently, we are focussed on building our first Living In Panama House.  We have had nothing but positive feedback from the people who have visited the site.   Click to see the 1st phase of construction of the Living in Panama House.
---