This hotel has been serving visitors to Puerto Armuelles for many years.  
And it looks like it.   
Koco's Place is located off the main road on the outskirts of town.
Although it is out of town, it is an easy place to flag down one of the many taxis passing by.
About
It is a one story hotel with some landscaping.  However, the hotel is old and is not being maintained or upgraded.  Although, the hotel itself is pleasant enough, its beds and pillows are not.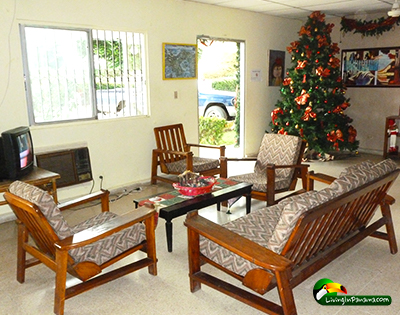 The hotel does have a large lobby with lots of places to sit.  It also has a banquet hall you can rent out. However, these main areas are not air conditioned nor is the furniture very comfortable.
It has a swimming pool, but the pool has had no water in it for over a year now.
Hotel Features
Location
The hotel is located at the corner of the main road into town and the road that leads the beaches in the Pez de Oro and Corazon de Jesus neighborhoods. It is about 5 minutes away from downtown Puerto Armuelles.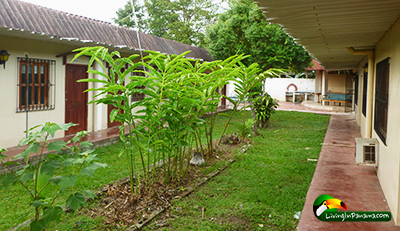 The Corazon de Jesus neighborhood is 2 miles away and the beach at the Pez de Oro neighborhood is 1 mile away from Coco's Place.
Room Rates
Single room, with double bed – $25
Single room, with 2 single beds – $27
Suite, with 2 double beds – $40
You can ask for an extra bed in rooms.
Contact Info
Email: [email protected]
Panama Phones

6684-9154 (Analis's number)
6592-3097 (Iris's number)

Koco's Place does not have a website.
---
Learn about other hotels in Puerto Armuelles Panama
Find out about restaurants in Puerto Armuelles
---
Photos of 3 rooms below.
Not the most attractive, or comfortable looking beds. But it could work for a short stay?
We stayed here for one night, years ago, and it was fine.
---
Looking for affordable property in Puerto Armuelles? Contact us for a tour.  You can start looking at Puerto Armuelles property for sale here.  We also have a listing book at the hotel.  Ask Milton or a hotel staff person to see it.
---
Have you stayed at Koco's Place?
Tell us what you thought of it below.