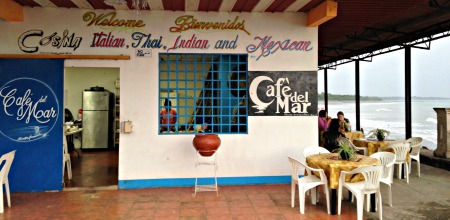 UPDATE – Cafe del Mar is closed.  A new expat run eating establishment is expected to open in the Summer of 2018.   Stay Tuned!
Puerto has a new waterfront restaurant, Cafe del Mar.
As the photo shows, it serves Italian, Thai, Indian and Mexican food, as well as hamburgers.
My family and I ate there after running into a couple who raved about it.  They had been there 4 times in one week!  And people have also told us they like the restaurant.  Overwhelmingly people recommended ordering the dish Thai On On.
When we went the service was very courteous and prompt.  We were served by the 2 owners Bernard and Ricardo.   Bernard has lived in Puerto Armuelles for years.  He is Iranian and speaks English well.  Ricardo has had restaurants in both Bocas and David.  He has minimal English.  Both men are good hosts.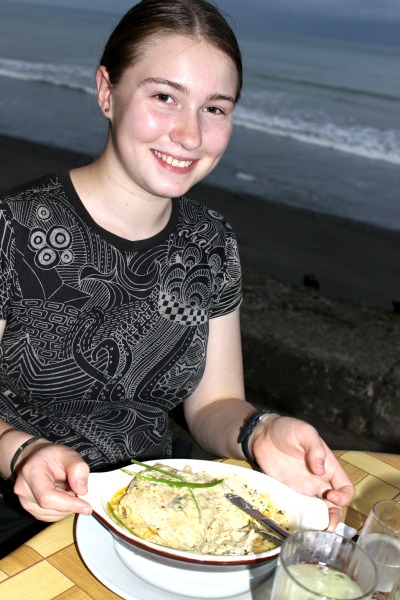 The Food
We ordered 2 dishes, the lasagne and, of course, the Thai dish, Thai One On.  You can see what they looked like in the photos.  Normally, the Thai dish is made with chicken or fish, but they were out of both and used ground beef instead.  They asked us if that was okay first.
It was wonderful to have food with flavors you cannot get when eating out elsewhere in Puerto Armuelles.    It was interesting that the Thai dish was in the form of a burrito, but it worked.
See their menu in the photos below.
We found our food greasier than we like, but that could be because of the substitution of ground beef for the usual chicken in our dish.
They emphasized that one of their specialities are liquado and batidos, similar to smoothies and milk shakes. But we didn't feel like having them a dinner.
Liquados and Batidos
Since then we have had their liquados (but not their batidos) many times.  Ricardo makes them best.  They only use natural fruit with no added sugar, which is wonderful.   I have tried their mango, pineapple, and watermelon liquados.  I like Mango the best.  Others in my family favor watermelon.  They don't always fruit in stock for all the flavors they offer.  Some day soon we will have to try their chocolate batido.
Hours
The Cafe is open every day, except Tuesday.   They usually open at 11, although occasionally not until 1pm.  They are open for snacks, lunch, and dinner.
Location
Cafe del Mar overlooks the water at Puerto Armuelles's downtown waterfront park. It is right next to the bus station.  If you are at the park, looking at the water, the cafe is on your left.
We go to that park just to sit and watch the water a few times a week.  So having a place to sip a liquado is a good plus. In fact, until about a year ago, there had been a small cafe that served liquado in the same location.   It didn't offer much in the way of food and their liquados were very sweet.  Cafe del Mar's liquados are far superior to those.
Contact 
You can call Bernard to order take out or to pre-order – 6751-5028.
Waiting for Del Monte
Business is good at Cafe del Mar.  But both Ricardo and Bernard anticipate that their business will do even better once Del Monte comes to town.   Del Monte will put more money in the pockets of everyone from banana pickers to management.  That money will be spent all over town, including at Cafe del Mar.
If you haven't heard yet, Del Monte is nearing the end of a very long government process to allow Del Monte to produce bananas here.   Del Monte will be taking over the old Chiquita Banana plantations.  Read more about Del Monte growing bananas in Puerto Armuelles, Panama.
Have you eaten here yet?  
What is your favorite dish?  Please comment below.
---