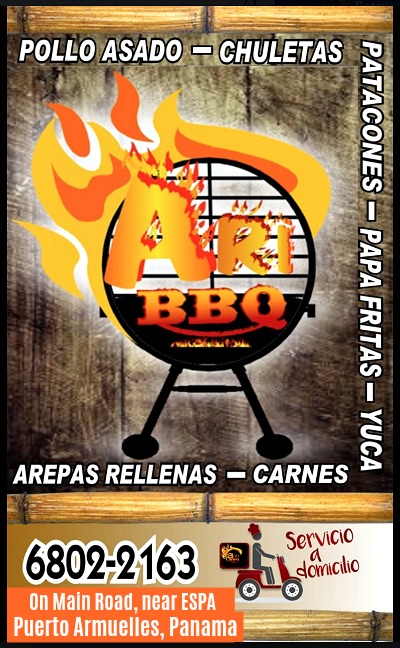 Have you tried Ari BBQ yet?
It is one of Puerto Armuelles' newer restaurants.  
It is definitely worth checking out.
We have been there twice now.
Location
It is near ESPA on the main road that runs through Puerto Armuelles.
ESPA is a school in the Los Angles neighborhood.  ESPA is across from the fair grounds on one side and the cemetery on another side.
As you will see in the photos they do have a sign on the street, but the restaurant can be alittle hard to see since the land dips down from the road there, so it is not level with the street (see photo).
It is an open air restaurant located in part of an old Chiquita building. I imagine this building was once up on a banana finca and after Chiquita left someone moved it to this spot.
You will discover transplanted Chiquita building in various locations in the Baru district.
The family who runs it are friendly and pleasant to talk with. They live in the Chiquita house.
Our Experience – Food & Ordering
So far we have only tried their BBQ chicken, fries, and patacones. And we have only ordered it to go. We have not used their delivery service yet.
The chicken has been pretty good.  Moist and not too greasy.  Much less greasy than the roasted chickens you can buy at Romeros.
However, they do not serve any vegetables. Which is one of the main reasons we order it to go. We take it home to eat with our own vegetables and rice.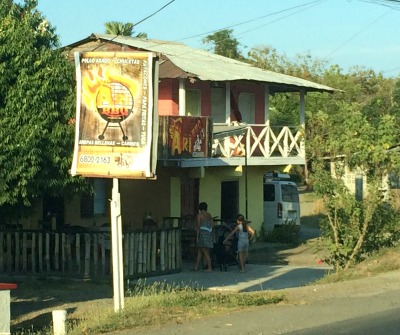 It takes about 30 – 45 minutes to get your food after your order. So you may want to order, do some errands, and come back. Of course, you can also use their delivery service or call in your order.
Hours & Phone
It is typically open after 5pm, 7 days a week.
Call to order or for a delivery: 6802-2163
Menu
They offer an intensely meat-focused menu. Pretty typical of a BBQ place.
Pollo Asado – 1/4 order $3.25, 1/2 order $5.50, whole chicken $9
Carne or Chuletas – $3.25, $6, $9
Chorizo  – $2.5, $4.50, $7.50
Picada Mixta – $10, $15
Arepas Rellenas – $2
Empanada Rellenas – $1
Sides:  Papa Fritas , Yuca, Patacones, or Arepas con Queso  – $1.50
Drinks: Soda, Sangria, Pina Coladas, Batidos – $1 -$3
Menu Translation
For those of you new to Panama or Spanish, here is a translation of those menu items.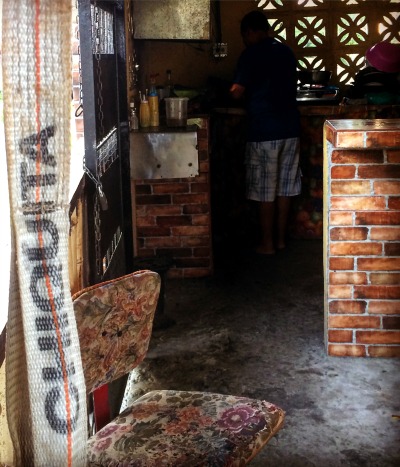 Pollo Asado – roasted, or in this case BBQ, chicken
Carne – beef (typically flank steak)
Chuletas – pork chops
Chorizo – sausage
Picata Mixta – a mix of menu items in one dish
Arepas Rellenas –  is a type of beef sandwich using a cornmeal type bread/thick torillas.  I haven't had it here. When I do, I will update this post.
Empanada Rellanas – an empanada is a stuffed pastry usually with meat, chicken or cheese.  Not sure why they included the word Rellanas, it simply means stuffed.
Papa Fritas – french fries
Yuca – steamed Yucca
Patacones – sliced, slightly mashed and then fried plantains
Arepas con Queso – type of thick tortilla (see Arepas Rellanas) with cheese
Batidos – smoothie
Facebook
Ari BBQ is on Facebook. It doesn't have much information on it, but here is the link.
Been to Ari BBQ?  Please share your experience below.
---
Find out about more restaurants in Puerto Armuelles
---