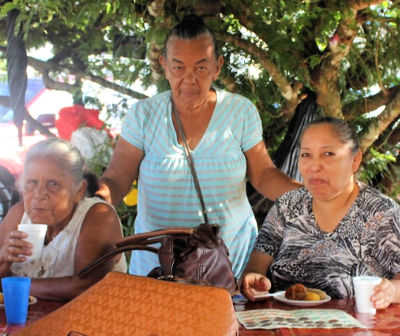 Panamanians dress casually.
How casual depends upon where you are in Panama.
Bocas del Toro is very casual. Flip-flops, shorts, a t-shirt, or even a tank top is fine.  
In Panama City people tend to dress more stylishly than elsewhere in Panama. Business casual is more the norm. Suits and high heels are seen more often, but overall the dress is still casual. 
I know I rachet up my wardrobe – slightly – while in Panama City. Of course, all those air-conditioned places in PTY makes getting dressed up a more comfortable option.   
The highland areas (eg. Boquete, Volcan, El Valle) also dress casually. However, it is warmer-clothing casual since it is cooler in the highlands. So more long-pants and jeans, as well as sneakers or casual city shoes. 
A Picture Is Worth A 1000 Words
Before I tell you how people dress in Panama, I will show you.
Check out the photos below. Click on any photo to start the slide show.
How To Dress
In general, it's good to look decent when you go out.
Yes, it is casual, but it is neat and tidy casual, not beach bum casual.
Of course, if you are simply on vacation, you can get away with dressing more casually.
However, if you are moving somewhere in Panama, it is a good idea to be presentable.
The truth is that you will likely be judged based on what you wear.
Most places in Panama are small towns, heck the whole country only has 3.5 million people, and they notice what you wear.
If you go out looking disheveled, with short shorts, or inappropriately attired, locals will notice and talk. It is always a good idea to respect the cultural norms of an area, whether you are a traveler or resident.
I'll give you an idea of what I mean by presentable.
For a few years, my daughter Skylar and her friend Bryan, who is also our Panamanian next-door neighbor, were almost inseparable. Each time Skylar and Bryan would head into town, Bryan would make a pit stop at his house. He would emerge transformed.
He would no longer be in a t-shirt and shorts. He would have changed into spotless jeans (maybe long shorts) and a polo shirt, with his hair freshly wet-combed.
Only then did his mother give the okay for him to walk or bike into town.  I wish I could say Skylar had been as nicely attired.
A Tip: If you are invited to dinner at a Panamanian's house, dress appropriately. If you show up wearing shorts and a t-shirt, your Panamanian hosts probably won't say anything, but they're probably thinking, "how uncivilized."
Typical Panamanian Attire
In this section, I will try to give you a general idea of what Panamanians usually wear out in public. If you want to fit into the local community, follow these general guidelines.
I am not saying that expats or travelers should dress like a local.  However, to be respectful, you should dress so you don't outrage local sensibilities. And given that Panama's dress style is casual, it is pretty easy to dress appropriately.
Business Attire
Also, if you are in business, you might want to take special note of what to wear. You will be given more respect and deference if you wear long pants, polo shirts or button-down shirts, rather than shorts and t-shirts. Think business casual.
Panamanian men typically wear
Jeans and polo shirts
Long shorts are more and more common
Sneakers, flip-flops, sandals or shoes – as appropriate
Carry backpacks and sometimes fanny packs (esp. workers)
Older men wear
Light-colored button-down or polo shirts
Brown or grey trousers

Often

 a fedora-type hat
Usually loafers. Most often brown loafers. Black for special occasions like picking up their jubilano check.
Panamanian women typically wear:
Capri pants, jeggings, stretch jeans (often with rhinestones).
Short sleeve blouses, tight colorful shirts, or tank tops
Sometimes skirts, and occasionally dresses
Hair up & slicked back in a clip, or in a ponytail with plastic headbands with teeth to smooth hair out
Purses are typically used, but a significant number of  women tend to carry their wallets and phones in their pockets
Sandles, flip-flops, or flats. Female office workers tend to wear high heels to work.
Older women
Skirts or capris
White or light-colored blouse
Flats
Hair up in a clip

   
Workers
Workers (eg., maids, gardeners) tend to arrive at work in nicer clothes, then change into work clothes. They reverse the process when they head for home.
Misc Observations on Dress & Make-up in Panama
Jeans are appropriate pretty much everywhere, even in church. That is, nice jeans, no holes or stains.
Jeans tend to be dark wash blue, light blue or black jeans are not as common.
Guayaberas (the traditional shirt for men) can be worn anywhere.  Which is surprising because it is a buttondown shirt that is worn untucked, so it seems causal. However, it is considered appropriate to wear anywhere from Presidential Inaugurations to nightclubs.  Click here for the history of Guayaberas, which are worn throughout Latin America.

Generally, Panama is 

15 years behind the fashion world.

Panama City is much more fashion-forward than other parts of Panama.  

Clothes are tighter than is usually worn by North Americans.

 Even dress shirts for men and women are tight – except for older men and women.

Pants, esp. for women, tend to be tight and low-waisted – so you will see your share of guts hanging over waistbands.

Women usually limit their make up to eyeliner, mascara, eye shadow, and eyebrow shaping. Women tend to draw eyebrows very thin – rarely matching their hair color. Their eyeshadow choices tend to be colorful.
Manicures are popular with women. (It helps that they are very inexpensive.)
It is perfectly acceptable for men to get manicures (without colored nail polish) and to shape their eyebrows.
Panamanians favor gold-colored jewelry
Dress Code for Government Offices & Banks
If you will be going into any government offices know that they have a dress code.
You can be asked to leave if you do not comply.
Dress code:  long pants or a knee-ish length skirt/dress/capri pants. Your shoulders must be covered. Men should wear a polo or button down shirt, not a t-shirt. Shoes must cover your toes.
If you wear shorts, flip-flops, and a tank top, you can guarantee you will be asked to leave.
I have been fine going into government offices with over the knee-capri pants, Keen sandals (which cover my toes) and a short-sleeve button-down shirt. Children wearing toe-revealing sandals seem to be okay as well.
Theoretically, banks have the same dress code. But I find it has more to do with the mood of the bank's security officer than with anything else.
I have gone into banks wearing flip-flops (but otherwise complying with the dress code) and have almost never been asked to leave. Usually, I simply forget that I am wearing flip-flops. However, if you remember, it is best to comply with their dress code.
No Shirt? Not Allowed in Panama
In Panama, except at the beach, it is illegal for men to be shirtless in public. This no shirt law also applies while you are driving a car. You occasionally will see a man shirtless in public, but not often.
It is always illegal for a woman to be shirtless in public in Panama – even at the beach.
About Jackets
You should have a light jacket.  There are many places where the air conditioning can be freezing.
Buses
Airplanes
Restaurants
Banks
Government buildings
Also, the temperatures in the highlands are lower, sometimes making a jacket a good idea.
Plus, elsewhere, particularly near the ocean, it gets cooler and breezier in the early mornings and evenings, especially in the rainy season.  At those times, you may appreciate a light wrap.
---