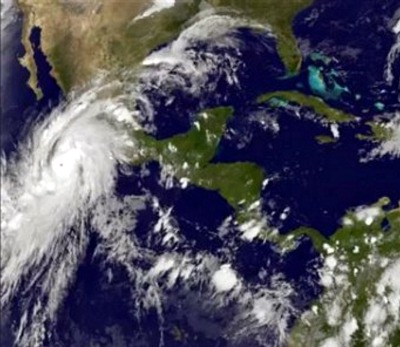 Over the years of living in Puerto Armuelles,  my wife Betsy  and I have frequently been asked
"What about Hurricane season in Panama? Does it worry you?"  
These disaster questions often come in a flurry after a major storm or other natural disaster hits the news.
Not surprisingly, we have gotten a number of concerned inquiries in the wake of Hurricane Patricia, and the long news blitz that has followed.   The weather folk said it might hit Panama, but it was yet another hurricane that did not hit Panama.
We, too,  had our own concerns about hurricanes and other tropical storms, before we arrived in Panama in 2006.
No Hurricane Has Ever Hit Panama
We were happy to learn that there is no recorded information of hurricanes ever striking land in Panama.  This figure surprised and pleased us.
We have been in the country for over 8 years now, and we have yet to see or hear news of a hurricane striking land in Panama.
It seems that the stories are true: There are no hurricanes in Panama.
---
Learn more about hurricanes in Panama, or the lack of them, in this more recent 2018 post.