Now that you live in Panama, you have time to do all the art projects you want. 
However, it is not always obvious where you can buy the art supplies you need.   
In this post, I list some helpful art stores and art resources in:
David
Panama City
Puerto Armuelles
Art Supplies & Resources
You can find craft and art supplies at many stores in Panama. However it isn't necessarily of the best quality, especially the paints.  Although, Panama City does have stores which sell higher quality paints and other supplies.
You can also order higher quality supplies online and get them shipped to you in Panama.  Check out this link on getting online purchases delivered to Panama.
Painting Canvases
Before I list the places where you can buy art supplies, I wanted to say a word about canvases for acrylic paintings.  You can buy pre-made canvases at many of the stores listed below.  However, you can also easily make your own.
To make your own painting canvas, the fabric to use is called manta sucia.  It is a very affordable light cotton duck fabric.  It is available at any fabric store.  You can make the frame yourself or have it made at any woodworking shop.  Then stretch the fabric onto it using staples.
Places To Buy Art Supplies
This is not a comprehensive list of all the places you can buy art supplies.  However, it includes some of your better options.
Puerto Armuelles
Supermercado Puerto Armuelles (Downtown grocery store by the dolphin statue)
Disney (a grocery store on the one-way street with all the sidewalk stalls in the center of downtown)
Mandarin (a grocery store on the way out of town, before the big bridge)
More Resources in Puerto Armuelles
Learn about art classes, workshops and more available in Puerto Armuelles.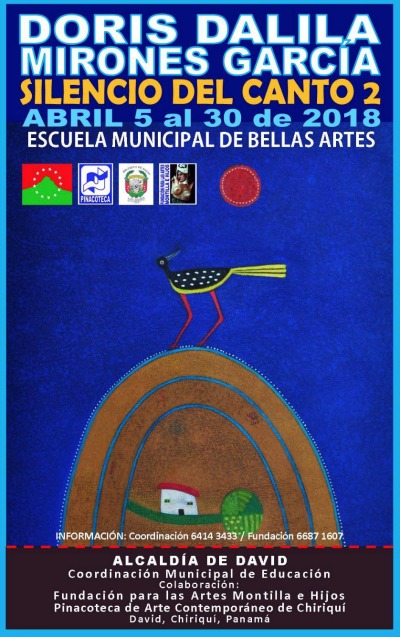 David
Daisy's – A big store with a bookstore, pharmacy, fishing supplies, and craft and art supplies. Daisy has easels, acrylic paints, watercolors, canvases and more.  Daisy's address is:  Av. 2a Este, David, Panama. Phone number: +507 774-3880.  It is near the central square on the one-way street that runs in front of the Dollar 1-2-3 store and the old Cable and Wireless building.  It is across the street from Oteima (Plaza Oteima, a university)
Oficentro – I like this store. It has alittle bit of everything including acrylic paint and alot of craft supplies.  But Daisy's selection is much bigger.  It is near the central square and across and down the street from Hotel Castilla and kitty corner from Multi-Cafe. It has a parking lot you can use across the street.
More Resources in David
Escuela Bellas Artes Municipal.  The school is located i

n the back of the municipal building in David. 

This art school has regular showings of well known artists as well as students.
Pictured is the poster for an upcoming show. It opens an April 5 and closes April 30, 2018   The show is co-sponsored in part by the Fundacion para las Artes Montilla e Hijos and Pinacoteca de Arte Contemporaneo de Chiriqui.  Both are Chiriqui focused art organizations. Call 6687-1607 for more information or to learn of up coming shows.  
Panama City
El Pincel (The Paintbrush) has a good inventory of paint and craft supplies.  Its address is: 

Avenida Manuel Espinosa Batista a un costado de la Facultad de Arquitectura de la Universidad Nacional de Panamá. It is on the same street as the Carmen Church. Phone: +507 223-5467.

Artec is near El Pincel.  It seems like a great art store.  They even have a website:  artecpanama.com.
Sederia in both Punta Patilla and the El Dorado Mall.  It is both a fabric and a craft store.  The one in Punta Patilla has a website:  sederiadallas.com
More Resources in Panama City
Master net is a craft/art store with classes.  You can find out more on their facebook page: facebook.com/masternetpty  It is located in El Carmen, calle del Teatro En Circulo, next to ScubaPanama.  +507 261-8995/

Panama City has a Museum of Contemporary Art. For more info, check out their website: macpanama.org.
Tell Us Your Favorites
Please contact us or leave in the comments your favorite art supply stores, art museums and galleries, or other art resources in Panama.
---