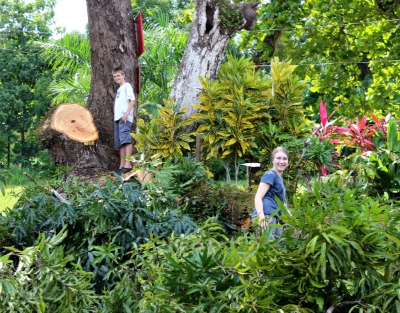 In Panama, you need a permit to cut a tree down.
Even if the tree is in your own yard.
You may be tempted to chop a tree down in "secret".
And maybe you will get away with it.
If you are Panamanian, you are much more likely to get away with it. Well, unless you have a neighbor who doesn't like you, or if the tree cutting damages your neighbor's property.
Why Get A Permit
It is the law.
Expats are expected to, and should, follow the letter of the law here. It is a sign of respect. A neighbor, or even a passerby, is much more likely to turn an expat into the authorities, than a local.  Mostly, because it does seem disrespectful for foreigners not to follow the law.
You really do not want to gain a reputation for being someone who doesn't respect the laws of your new country.  It is a reputation that will only make your life more difficult.
Tree Protection in Panama
Trees are considered a valuable resource in Panama.  They are used for buildings and furniture. Their fruit and nuts are a valuable commodity as well.
And the reality is that deforestation is a real problem here.  The climate of the Azuero Peninsula radically changed after they cut down most of their trees to expand cow farming.  While your back yard trees are not part of the deforestation issue, the regulations to protect Panama's forests and tree resources, include you and your trees.
The Law & Fines
Panamanian law states that you must get a permit to:
Cut down a tree that is 4″ or more in diameter
Operate a chainsaw to cut down a tree
You can request both permits at the same time.
You can be fined, if you cut down a tree without a permit. The more trees you cut down, the more you will be fined.  Of course, someone has to complain for you to be fined.
The threat of fines does seem to keep people from harvesting trees for money, at least in areas where they are not likely to be seen felling a tree.
---
An Illegal Tree Cutting Experience.  We had a neighbor, an expat, of one of our properties cut down 200 of our trees!  The trees were all  over 4″ in diameter.  We had planted them to block the sight of his cell tower.  Unfortunately for him, the tees also blocked his ocean view.  
While we were out of the country, without attempting to contact us, he decided to cut them all down. When we asked him about it, he claimed that his gardener said, "it was okay to cut them down". Yeah, it was the gardener's fault.
Although, we had ANAM come out and verify the number and size of the trees that he cut down, we did not press any charges. Given the number of trees, the fine would have been quite substantial. While were miffed and mystified about the incidence, but trees are easily grown here. So we decided to let it go. We simply replanted.  
---
We have cut down a few trees in Panama over the years.  Usually because the tree was in some way hazardous. For instance, when coconut palm trees get over a certain height, they are dangerous. A coconut falling from up high can kill someone.
Of course, we have also planted over ten thousand trees. We love both the ease of growing as well as the variety of trees here. We usually plant trees for shade, architectural interest, property boundaries, as well as fruit trees for their fruit.
How to Get A Permit
Getting a tree removal permit is:
Straight forward
Inexpensive ($13 a tree)
Easy to obtain
Required Documents
You must submit the following documents to your local ANAM office.
Copy of your Passport or Cedula
Copy of purchase & sale agreement or title, or other document proving you own the property
Written request, in Spanish, by owner to fell a tree (This is only required, if you, the owner, do not apply in person)
We typically ask our tree cutter to take his aserrador's (logger) license to the ANAM (Environmental and Marine Administration) office to apply for the permits.  We give him all the required documents above.  It is much easier that way, as we discuss later in this post
You can apply for up to 5 trees to be removed per permit request.
---
ANAM in Puerto Armuelles: The ANAM office in Puerto Armuelles (see photo above) is 1 block south of the baseball stadium in Rio Mar neighborhood (on the same street as Pizza Pilo).
---
The Inspection
In addition, once you (or your tree removal guy) hands over all the required paperwork, you need to formally request an inspection of the property by an ANAM engineer.
The engineer usually comes out to visit the site very quickly:  That day or the next.  Then he returns to his office, fills out, signs, and stamps the permit.
So far, we have never had any request to fell trees on our property denied.
Getting & Using The Permit
The property owner then goes to the ANAM office and pays the $13 permit fee.  Make sure you leave with the permit in hand.
You then should give the permit to the person who is actually cutting down the tree.
Panamanian law requires that the tree felling permit be in the hands of the tree cutter, just in case of a surprise site inspection.
However, we have never had a follow up inspection in over 10 years of living in Puerto.
Why Have Someone Else Apply For You
The whole process sounds arduous. In reality it is not.
Generally, this entire process can be accomplished in a day or two.
We have obtained our own permits many times.
We used to go to the office ourselves (well, Reyn usually went).  Then it did feel arduous.
We find that having the guy who wants to do the tree removal (this applies to all kinds of contracts and contractors) apply for the permit himself, speeds the process up.
The worker knows the engineer. The engineer knows that the worker needs the work to feed his family. It makes it much less likely that there will be any bumps along the way.  It is a "done deal".
Of course, when we did it ourselves we never had a problem, though it did seem to take more time to get the permit. We don't want to discourage you from getting your own permits, but it is something to consider.
Our Tree Removal Guy – Lalo
Typically, we have Jose "Lalo" Samudio get the tree removal permit for us.
Lalo is a logger/tree remover here in Puerto Armuelles.  Lalo is a licensed logger ("aserrador").  He also owns a tractor which is very helpful in the tree removal biz.
Lalo is also a competent woodworker, logger, backyard mechanic, and jack-of-all-trades.  In short, Lalo is very handy guy to know. Plus, he has a lovely family, with a wife and three children.
---
In case you want to hire him, Lalo lives on a corner lot in the Coronado neighborhood, which is just north of the Corazon de Jesus neighborhood. Ask around and someone will point out his house.
---
Conclusion
Getting a permit will cost you $13 and about 2 days of waiting.
Most importantly, it helps you maintain good relations with both your neighbors and local officials.
---