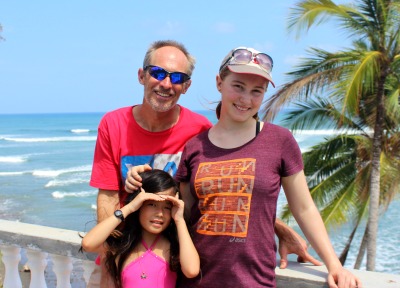 A few months ago, we stopped to visit Shawn and Shena at their place on Punta Burica.
They own & operate Burica Surf.
We were on our way to visit our friend Juancho at Mono Feliz.
Shawn and Shena were just putting the final touches on their surf/stand up paddle board camp.
It was spectacular.  Shawn was out paddle boarding when we arrived. Shena was hanging out with their 2 kids.
We ended up staying for much longer than we intended. It was a very comfortable place and we all had a great time sitting around and chatting.
Aerial View
The aerial video below was taken of and around Burica Surf.  It was taken before our visit. As you will see the main building is still under construction.  The water and conditions look sweet.
Activities
You can find various wave opportunities for both beginning and advanced surfers, as well as for beginning and expert stand up paddle (SUP) boarders.  You can rent a board at Burica Surf for $20/day.
You can also paddle out to Burica Island (or Isla Burica) in about 25 minutes.  It can be leisurely circumnavigated in an afternoon.
My husband has enjoyed surfing at Burica Island before and wrote about it.
Surfing. Some waves are boat access only, but there are a couple breaks to choose from right out in front of Burica Surf.
Stand Up Paddle Boarding. It really is ideal for SUPs due to conditions and beauty, as video above shows.
Fishing. The fishing is good in this area. There is even a fishing lodge nearby, Hooked On Panama.
Snorkeling
Horseback riding
Relaxing
Feeding the monkeys (at times) that pass through the property almost daily.
Location
Burica surf is at the very tip of Punta Burica. It is in a remote area with views of Burica island.
It is about a 1-1/2 hour drive from the beach town of Puerto Armuelles.
How To Get There
From Puerto Armuelles, every hour there are small buses to the village of Bella Vista. (These buses stop after 6pm.)  Bella Vista is about 2.5 kilometers from Burica Surf.  Which means it will take you about 30 minutes on foot or 15 minutes by car to get to Burica Surf from Bella Vista.
If you want, you can ask the Burica Surf folk to come and pick you up at the airport in David or in Paso Canoas.  Paso Canoas is the town at the border between Panama and Costa Rica.
---
For detailed directions to get to Punta Burica & Burica Surf, visit our Punta Burica hotels page.
---
Accommodations
Now the accommodations are even nicer than when we visited. Check out the photo below of their main building.  I downloaded it off their website, buricasurf.com.
Rooms
Lodgings at Burica Surf are rustic, yet comfortable.
There is no electricity or Internet.  Which means it really is a wonderful nature retreat without distractions.
Rooms are $50-$75/night (2 to 3 people)
A bunk is only $15/night/person.
They have 4 rooms and 3 dorms.
Food
Meals are available for purchase. It is only $30 a day (3 meals).
All meals are served in a "family" style in the upstairs dining area overlooking the surf breaks.
Reservations
To reserve your accommodations, you must pay a 50% deposit.
You can cancel your reservation within 24 hours of booking your accommodations.
Group Rates
They offer group rate and package deals.
Payment methods
Electronic bank transfer, Pay Pal, and cash (USD).
You are welcome to show up without a reservation, but then they can only accept a cash payment. (Remember there is no internet or electricity at Burica Surf)
Contact Burica Surf
You can find out more, including their contact information, at their website: BuricaSurf.com.
If you make it out there I'm pretty sure you will have a fun and relaxing time.  
As Shawn says, "There's always something to ride!"
Please let me know how you liked your visit there. Comment below.