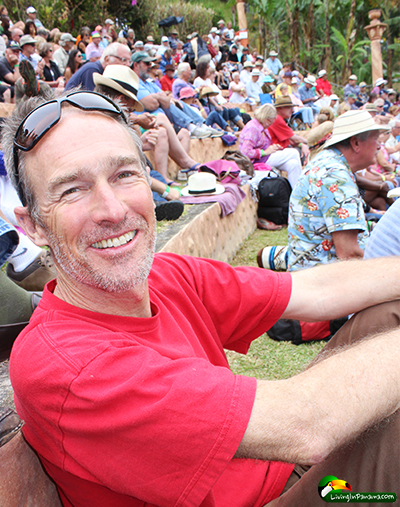 I had such a great time at the Boquete Jazz Festival last year.  
I am definitely going this year.  
Last year, my 8 year old was NOT thrilled. My 13 year old enjoyed it. My husband (the guy in the photo) liked it alot. And I loved it!
I had the best time dancing to amazing blues music.
Read about our experience at last year's Boquete Jazz & Blues Festival.
It is less than 2 weeks away!
The 10th annual Boquete Jazz & Blues Festival happens February 25 – 28, 2016
Here's a video preview of this year's Festival
Festival Website
While the event is fabulous, the festival's website (here) is terrible.  It is hard to find information on it.
I couldn't find links to their most important pages, like the festival line up page and ticket purchase page.  But I persevered and uncovered those links eventually. I'll put them below.
The Festival Line Up and Schedule
On Thursday, Feb 25th at noon, the Festival kicks off with a New Orleans style street parade followed by a free concert at the town's central park.
The Festival really kicks into gear on Saturday and Sunday.
Here is the schedule and line up.  For updates to the line up and program, visit the Festival's program page here.  Acts are added often, especially on the 1st 2 days of the Festival.
 Planning ahead
If you don't book ahead, it can be hard to get a hotel room in Boquete.  Last year, we went on Sunday and then stayed at Ciudad de David hotel (in David) that night. (FYI – David is 30 minutes from Boquete.  Puerto Armuelles, our town, is 1 hour and 15 minutes from David.)
We are going to do something similar this year.  We could drive home directly from Boquete, but it makes it more of an event if we stay the night.  Plus we usually have something we can accomplish in David.
Also, its a good idea to buy your tickets ahead of time.  They sell out.
Get Your Tickets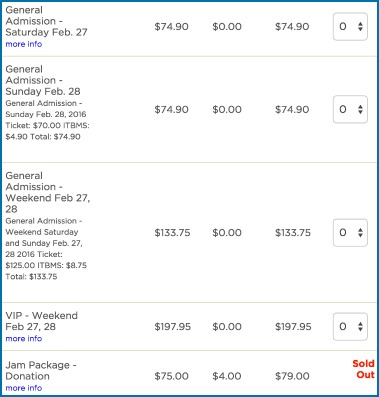 You can buy your tickets both online and in person. I'd recommend buying them online.
To find out more about your ticket options and costs go to their website here.
To buy them online use this link here.
As you can see, the tickets aren't cheap.  For me its a bonus that kids 12 and under are free.
More information
The festival has a facebook page where they share videos and updates.
While I didn't find the official website super helpful, this site has lots of great information about the festival and related info.  You might want to check it out.
Discounts & Methods To Get To Festival
If you are coming from another country or from Panama City, there are some good things to know about.
15% Discount on Flights on COPA
Festival goers can get a 15% discount on Copa airlines flights to either Panama City or to David.   It is only for economy seats from February 20th – March 4th, 2016. Book your flight on Copa here.  Use coupon code C6705.
Flights to David(!)
This is especially good because Copa is now offering connecting flights from Panama City's Tocumen airport to David's Enrique Malek Airport. International travelers used to have take a taxi from Tocumen to the Albrook airport to catch a flight from Panama City to David.
This development is wonderful, and so much cheaper for travelers.  Used to be, if you flew into Panama City and wanted to catch a flight to David, given schedules and time needed to get to Albrook, you often had to spend the night in Panama City. So you had to pay for more taxis and a hotel room, etc.  Even if you could catch a flight that day, you had the cost of the taxi ride to Albrook.
With Copa's flight to David you get to skip the taxi ride to Albrook and you are much more likely to be able to catch a connecting flight that day.  Plus Copa's flight to David is cheaper than Air Panama's out of Albrook airport.
We love Copa!  It is our family's favorite airline.
Technically, you can only fly from Tocumen to David's airport if you are connecting from an international flight.  However, I have taken that flight without having arrived on an international flight. But I wouldn't count on being able to do that.
Not flying internationally?  Take Air Panama's flight out of Panama City's Albrook airport to David's Airport.  There is no festival discount available for that flight.
Take A Luxury Blues Bus From Panama City
You can also take a bus from Panama City with other festival goers.
The details are on the flyer for the Blues Bus to Boquete.
I smile just thinking about going.   It is my birthday gift to myself.
Are you going?
Maybe I'll see you there. Please come and say "hi" if you see us.
We will be the only family with both a young Chinese daughter and a blondish teenage daughter.
I'll most likely be dancing in front of the stage.  🙂