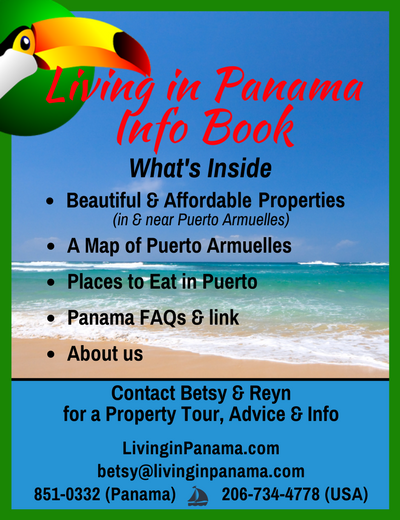 Updated: 2/7/17 
A number of people have been requesting a printable version of our properties for sale.
Now you can now get one!
And it includes more than properties for sale.
Also, keep in mind, that not all of our properties are listed on-line or in this ebook of our properties.
We save some in reserve for those that make the journey to Puerto Armuelles to see our properties.
Download the listing book here. 
Click to explore properties online.
Contents: Properties & More
1) Property for Sale in Puerto Armuelles area
with links for more photos and info
2) Info About Puerto Armuelles
 Some facts, info & a little bit of history
 Map of Puerto Armuelles
 Places to Eat in Puerto Armuelles
3) Places to eat dinner in Puerto Armuelles
4) Link to answers to many FAQs about Panama 
5) Information about us at Living in Panama