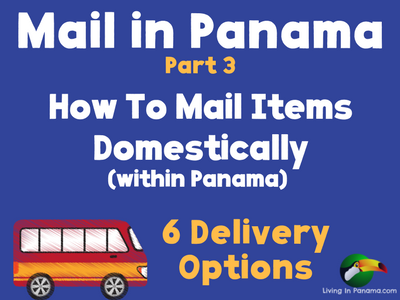 No one I know uses the Panama postal service to send mail to someone else in Panama.
I have never heard anyone even suggest it.
Everyone uses delivery services.
The most popular one is Uno Express.
6 Delivery Options
To send mail – or anything – domestically, you have 6 options.
Taxis – Taxis are often used to deliver items, pick up to go food orders, as well as the usual general passenger transport.  Taxis as a delivery service is used mostly within the nearby area.
Uno Express – A popular delivery service with offices in many locations throughout Panama, including our town of Puerto Armuelles.  All packages/letters should include a phone number.  The local Uno Express office will call you to come pick up your mail when it arrives.  They generally do not provide door-to-door service.
Transporte Ferguson – is another delivery service.  It is in fewer locations than Uno Express. It is a good option to send things to and from Boquete.
Flete Chavales – Is the delivery service to use within Panama for larger items like furniture or big packages.
Buses – many people use the bus companies to send letters and packages.  My mom used Greyhound buses to send me packages when I was in college. The buses are both reliable and cheap. The recipient will need to go to the bus station to pick up the package.  Smaller, local, buses will sometimes deliver to the person's door.  For remote places, like the Darien, the bus is pretty much your only delivery option.
Airplane – Both Air Panama & Copa Airlines – offers cargo service and courier services along its air service paths.
I am sure there are people and businesses that use Panama's domestic mail system.  But as I said, no one I know does so.
If you have had experiences using Panama's domestic mail service, please share in the comments below.
For more about Mail in Panama, see all parts of this 4 part series:
Moving to Panama?  You may want to use our Preparing To Move To Panama Checklist.