October 26, 2014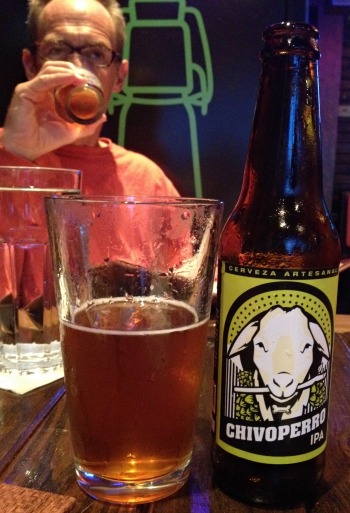 Panama City is becoming increasingly upscale and sophisticated.
It not only has the new museum designed by world renown architect Frank Gehry, but micro-brews.
There are at least 4 micro-breweries that I have heard about:
Casa Bruja Brewing Co.

Istmo Brew Pub

La Rana Dorada

Cerveceria Legitima
I really like Casa Bruja's Chivo Perro, an IPA
Casa Bruja Brewery
Casa Bruja is the local brewery that makes the IPA, Chivo Perro (which means, goat dog. Go figure). It also makes a blonde, amber, stout, and barely wine.
Its IPA stands up well to all but the hoppiest of IPAs in the States.
Casa Bruja does not have its own pub, but a number of bars and restaurants in Panama City offer their beer.
I tried Casa Bruja's beer at the Smoke Shack (see photo of my husband imbibing, above). The Smoke Shake also offers 2 other Casa Bruja's beers and a few US microbrews as well.
You can visit the Casa Bruja website to see where else you can sample their brews.
The Smoke Shack
By the way, if you are hankering for alot of meat and a brew, the Smoke Shack is a good choice. They are very friendly, offer good service and good food.
It is located across the street from the DoubleTree hotel near Iglesia de la Carmen. (If you don't want to eat mammoth amounts of meat, try their salad which still includes a significant amount of meat, but not an overwhelming amount.)
Why Are Panama's Micro-brews so Expensive?
All the raw materials for these craft beers must be imported – malt, yeast, hops…
The only ingredient you can get locally is the water.
The cost of producing 5 gallons (50 pints) of beer can range from $30 to $50, not including the shipping costs. With shipping the cost goes up to $100 for every 5 gallons of beer produced.
What this means is that the Chivo Perro I bought at the Smoke Shack cost $6. If I had bought a Lost Coast micro-beer from Oregon, USA instead, I would have paid less, $5.75.
Istmo Brew Pub
The food is better than the beer at Istmo Brew Pub. I found the beers rather flat tasting as well as a bit sweet and cloying.
They are drinkable. But nothing to write home about.
There are 2 Istmo Brew Pub locations. I have been to the one in the El Congrejo neighborhood 2 or 3 times.
If you are young and single it can be a very happening place on the weekends & later in the evening.
I avoid it then. I go when it is quieter. Their patacones pizzas are worth checking out.
You can see their menu below.
Cerveceria La Rana Dorada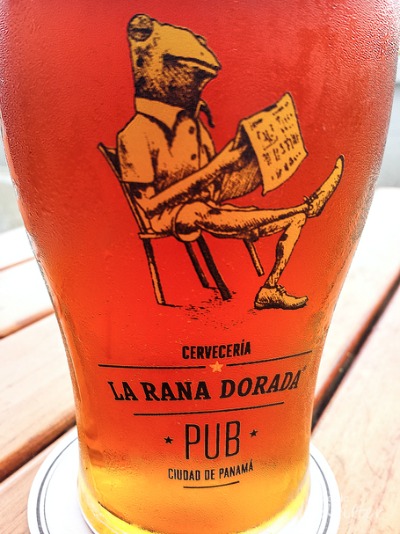 I have not yet made it to this brew pub.
So I am to offer you other people's experience and knowledge about the brewery.
La Rana Dorada is run by the same people that are behind Colombia's hugely successful Bogota Beer Company.
La Rana Dorada means The Golden Frog
They have hired master brewer Brad Kraus. This is good news. Kraus has 25 years of brewing experience and is international recognized as an excellent brewmaster. He has worked in breweries in New Mexico, Peru, Chile, and Colombia.
In 2010, La Rana opened their first brew pub in Panama City. They now have 3 locations.
La Rana has 4 very different beers.
Here is what roamingaroundtheworld.com thinks of them:
La Rana Dorada Porter (Porter, 5.0%) was their best offering and a favorite of ours for all of Panama. It had heavy coffee notes and a tasty roastiness about it. A very solid beer.
La Rana Dorada Blanche/Belga (Belgian Wit, 4.0%) was okay. It had light citrusy orange and lemon notes with some bitterness too. It had perhaps a bit of a Fruitloops or Fruity Pebbles taste to it with a tart finish. Not great but not bad at all either.
La Rana Dorada Pale Ale (Pale Ale, 5.0%) was not a standout. It had notes of tropical fruits, black licorice, and soap with a decent hop punch to it. If searching for a hoppy APA or IPA in Panama, I'd recommend Casa Bruja's Chivo Perro instead.
La Rana Dorada Premium Pils (Pilsner, 5.0%) is a typical pilsner with some mild lemon notes to it. Very drinkable but nothing too interesting.
roamingaroundtheworld.com also says that La Rana
"was one of the breweries in which we felt the dirty water taste slightly came through in the beer, but they were still very drinkable and we very much liked the brewpub overall."
I am going to be searching out one of their brew pubs next time I am in Panama City.
To find out more go to La Rana's website.
Cerveceria Legitima
I couldn't much information out about this brewery.
It seems like a much smaller scale brewery then the others.
They do have a facebook page.
Based on reading its FB page I get the sense that the people involved in La Legitima seem like a fun group of serious beer lovers. I'll try to track down their beer.
Panama's International Beerfest
La Legitima is mentioned as joining with the 3 other micro-breweries, above, in starting Panama's own International Beerfest in 2013.
The Panama's 3rd annual International Beerfest will be March 13 -14, 2015.
However, I would check that date in January. Things can be somewhat fluid in Panama. The last 2 Panama beerfests were in February.
If you drink beer and are in Panama City then, I'd recommend going. I will.
Best Beers Of Panama Chart
Below is a rating chart of Panama Beers created by RateBeer.com .
According to RateBeer.com, the more reviews a beer receives the more likely its score will increase. This is because they use a weighted mean.
You can read each person's review of the beers and add your own voice by going to the source of this chart.
Interested in Seeing Panama?
After the festival hop on a plane and visit us in Puerto Armuelles.
If you want to move to Panama, make sure you check out our affordable beach properties.