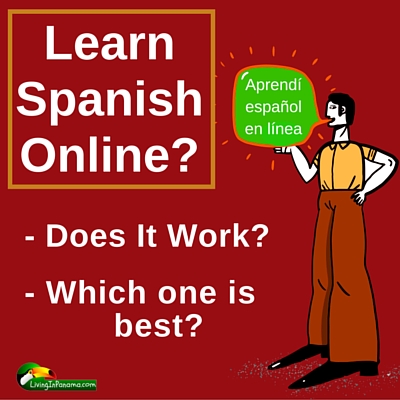 I want to speak Spanish better.  
I hope the right online Spanish program will push me to the next level – fast.
But which online Spanish program?

There are so many.  It can be alittle overwhelming.  
Are online programs really any better than traditional methods?
Stick with me as I explore:
Is learning a language online different or better from traditional methods
How to choose an online program?
Which online Spanish course is the best?
Online vs Traditional Learning
The last time I studied Spanish seriously there were a few software language programs, but almost no online options.
In those days, I tried to learn Spanish the way people have been doing it forever:
Books
Classroom
In-person conversations
That way still works.  But it didn't work that well for me.   I found that you must be very self-motivated to move beyond basic Spanish using the old methods.
I have now reviewed a number of online language courses out there.  Not all, but some are different from traditional methods.  And some have integrated ways to boost your motivation.
What Online Language Programs Offer
The programs I liked:
Give immediate feedback.  For instance, letting you know if you translated something correctly. And telling you the correct way.  Or saying you did not pronounce a word correctly.  And having a way to listen to the right way to pronouncing it and then trying again.
Progress Reports.  Some programs tell you how often you are working on your Spanish. Time flies.  You think you are working hard.  But then when you sign-in to your program, you learn it has been over a week since your last check in.   Some programs also offer badges and other status updates on your learning progress.
Forums.  A few programs also have forums,  A place where other people learning Spanish can ask questions and help each other.  I found forums helpful for this reason.  Also forums make it feel like you aren't learning in a vacuum, all by yourself.
Emphasis on Speaking Spanish.  I write more about this below.   Most people want to learn a language to speak to people in that language.  Not just listen to it or read it. Therefore, it is the thing that needs the most practice.
So far, I have been much more excited and motivated to learn using the more innovative online programs than I ever was using the more traditional book and classroom approach.
Speaking Spanish Required?
One of the biggest difference between the programs is if you are asked to actually speak Spanish.
For me this is critical.  I can write, read, and understand Spanish pretty well.   Speaking it is much harder for me.
I have pronunciation issues in English.  After a lifetime of work, I have overcome many of those issues.  When I try to speak Spanish it all comes back.  Spanish not only uses more words to say the same thing as in English but many of those words are dismayingly long.   I literally feel like I get lost in the middle of those many long multisyllabic words in Spanish.
Even if you have no speech issues, making yourself understood in a foreign language is the biggest hurdle.
4 of these 6 online programs require that you speak Spanish.
Differences In Online Programs
I was surprised at the differences in the various online programs.
For instance, Rocket Language, Fluent-in-3-months, Duolingo, and especially Fluentu use very different approaches. But all 4 use online technology to make learning Spanish more fun.
And while those programs are different from traditional methods of learning languages, some other programs, like Visual Link Spanish, are more like traditional methods, online.
How to Choose
So which program is best for you?   To find out you should ask yourself at least 2 questions:
Why do you want to learn Spanish?
What type of learner are you? (visual, audio, sensory)
Keep your answers to those questions in mind when evaluating each program.  You will choose different programs if your goal is to learn medical terminology vs chatting up a senorita.
Online Spanish Program Reviews
I will be reviewing many of these online Spanish programs.  Check those out to help you decide which is best for you.   You can also use the links above to start reviewing those programs yourself.
1st up for review is Rocket Language.  Here is the link to my Rocket Language review.
2nd up, I will review the Fluent-in-3 months program, and others to follow.