July 10, 2013
The best way to learn Spanish varies from person to person.
But these 3 Spanish books have greatly helped me in my struggle to learn Spanish.
Instant Spanish
"35 minutes a day for 6 weeks and you will speak Spanish" – the author asserts.
I am deeply fond of this book. I am not good at languages. I took Spanish in Spain – twice – and once in Oaxaca, Mexico.  I studied both in groups and with an individual tutor.
I just could not fathom how to speak Spanish with anything approaching ease.
Then one day a man working at a hotel in Granada Spain gave me this book.  Someone must have left it behind. The receptionist also must have been tired of hearing me and my pathetic attempts to speak Spanish to him.
I don't know why, but something in this book clicked with me.
Suddenly I was creating sentences in Spanish.  Real sentences with nouns, adjectives and most importantly verbs!
If you don't have any ambition to speak fluently, or to use many verb tenses, you could just have this book.  It is pretty basic.  But it has a very effective and doable learning style – for me, at least.
I don't know if you will have the same experience as I did with this book.  But since Amazon has it for only  1 cent, plus shipping, it might be worth a try.    Click to see it on Amazon.
Madrigal's Magic Key to Spanish
At first this book seems very simplistic.   Its approach is to let you know all the Spanish you already "know". That is, by adding specific ending to amazing number of English words they become Spanish words.
Some people criticize the book for this seemingly simplistic approach to learning Spanish.  I think it is its strength.  Also, it goes into more grammar and verb tenses, in a very helpful way, later on in the book.
You might want to see check it out.  It is usually $10 or less.
You can see it on Amazon, here.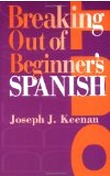 Breaking Out Of Beginner's Spanish
You may be able to speak Spanish well enough.  That is, you can have a "small talky" conversation and negotiate daily life in Spanish.
But maybe you find yourself tired of not being able to express and discuss more complex thoughts and ideas with native Spanish speakers.  Maybe you hanker to have real adult conversations in the Spanish language.
Then it is time for this book.   It is not a dry textbook.   It really is a fun way to explore the next level of competence.   Go read the reviews on Amazon to see what other's think, click here.
UPDATE
I wrote a more recent post about my and my husband's experiences learning to speak Spanish.  Click here to read that post.
I also explain my plan to improve my Spanish.  As part of that goal I am exploring various Spanish language programs.   I am starting with the 2 listed below.
Spanish Programs For Review
You can explore the free versions of these programs by clicking the links below.
– Fluent in 3 months (aka Benny the polygot)
You can check them out yourself as well.
Sign up for my newsletter to get my review of these programs in your inbox.
Please comment below.
Disclaimer: In the event that you use the links above to purchase a product, I may make some money.  No product will ever cost you more because of this.  If you do buy a product, I sincerely appreciate you doing it via one of my links.