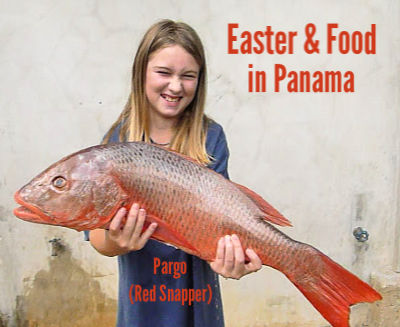 Update: Due to Panama's coronavirus quarantine, Easter 2020 will be much different than usual. However, the food eaten will be pretty much unchanged. I hope you and your family are healthy and safe this holiday.

A chocolate bunny is my "special" food for Easter,
However, Panama celebrates Semana Santa with a more diverse menu.
Dessert is served, but so is fish, cashews, and more.  
Fish Dishes
During Lent, Catholics are not supposed to eat meat on Fridays. They are allowed to eat fish.
(FYI, Lent is the approximately 40 day period leading up to Easter.)
So, as you can imagine, fish consumption, particularly of the popular Corvina and Pargo (red snapper) increase dramatically.
---
Click to find out more about Easter in Panama
---
The following are 3 popular ways to prepare fish in Panama during Semana Santa and all year long.
Ceviche
Al ajillo (cooked with garlic and butter)
A la criolla (cooked with a pepper, tomato and onion sauce)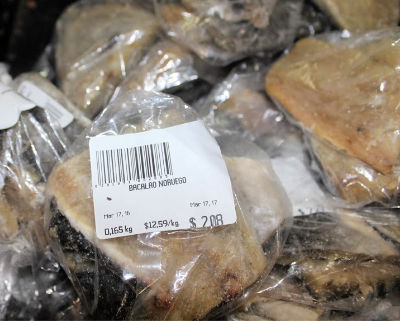 Bacalao
There is one fish, in particular, which is traditionally eaten during Semana Santa. That is Bacalao, a dried and salted codfish. Bacalao is popular in many Latin American countries.
Bacalao is served with either rice or potatoes and, as I said, is a popular dish for Easter. The Panamanian newspaper La Estrella has a recipe for "Bacalao for Semana Santa" (in Spanish), here.
Important: If you do decide to make a Bacalao dish, remember you must soak it in cold water for about 24 hours, changing the water at least 3 times during that time.  You must do this to remove all the excess salt BEFORE cooking it, otherwise, it will be inedible.
Pan Bon – An Easter Bread
Pan Bon is a dark sweet bread that is very popular around Semana Santa.
These round loaves are made with dried fruit, local cheese, and orange rinds. During Semana Santa, a dollop of lighter dough in the shape of a crown or cross is often applied to the top of the loaf.
According to what I have read, Pan Bon is said to represent the bread that Jesus broke at the Last Supper.
I purchased a loaf of Pan Bon, see photo, directly from a person selling them on the street in Puerto Armuelles. My family did not love it, probably because had been over-baked and was dry.
It takes hours to make Pan Bon, because the dough is worked and left to rise several times. Here are 2 links with recipes for it at BlueJellyBeans.com and Quericavida.com
Chicheme – A Corn/Rice Drink
For Easter, chicheme is popular.  Chicheme is a drink with milk, corn, and rice seasoned with cinnamon. Many people find that it tastes pretty good, if a bit chunky.
Not everyone likes it though. My daughter Blaise thinks it feels too pasty in your mouth because of all the starch in the drink.
Regional Semana Santa Foods
Different regions of Panama have their own traditional food to eat during Semana Santa.
Breakfasts during Lent and Holy Week in the Herrera province typically consist of polenta-like bollo, a simple farmer's cheese, and dried or smoked bacalao.
On Good Friday in the Colon province, bacalao is served in escabeche, a vinegary concoction made with veggies and hot peppers.
On the Caribbean Coast, enyucado is served. Enyucado is a cross between a pudding and a casserole. The dish consists of sweetened grated yucca, fragrant anise seeds, shredded coconut, and crumbles of white farmer's cheese.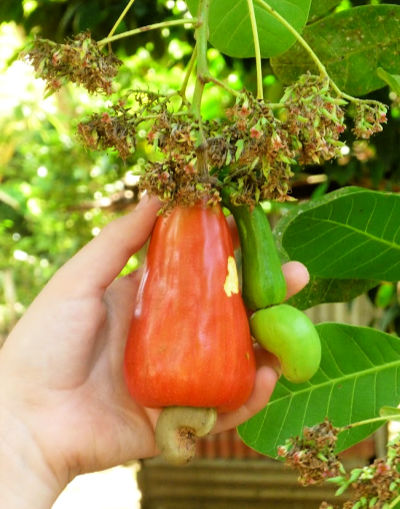 On Good Friday in many parts of rural Panama, unshelled cashews are traditionally roasted over an open fire and eaten. It is a long and laborious process, and care must be taken that the husks don't burn.
During Holy week in the Chiriqui province and other regions, a sweet called cocada is popular.  Cocada is made of cashews.  The cashews are pried from the "apples" on which they grow around this time of year.
The cashews are roasted and shelled—usually by hand—then added to a sweet, gooey mixture of coconut and sugar cane syrup spiced with cinnamon. After the mixture cools, it is formed into little molasses-colored balls.
In the Cocle province, an even more unusual, but similar preparation is made during holy week. It is called dulce de frijoles. It is made the same way as cocada, but instead of cashews, cooked beans are the main ingredient.
Easter In Panama
You can learn more about Easter celebrations, information, and tips, by reading my Panama Easter article.
If you have kids in Panama, you may be interested in how I have tried to keep our Easter bunny tradition alive for our expat kids.
---
An invaluable source I used for this article was written by the Toscana Inn Hotel, especially in regards to foods favored by different regions of Panama.
---