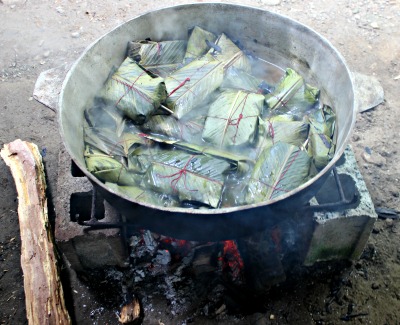 Tamales in Panama are not the same as the Mexican tamales North Americans are used to eating.
Panama vs Mexican Tamales
Panamanian tamales's corn meal is much wetter and more flavorful
Cooked in plantain and bijao leaves, not corn husks.
My Experience 
The first time I had Panamanian tamales I was under-whelmed.  I had a real fondness for tamales, Mexican tamales.
Initially, I was not thrilled with the wetness of tamales in Panama.  It is definitely more messy to eat than a Mexican tamale.  Of course, it didn't help that whomever had made them had skimped on the chicken.  It was mostly cornmeal.
Over the years, I have grown to appreciate how much more flavor the "messy" cornmeal gives to the tamale. They cook the cornmeal in a well-spiced broth which gives it the flavor.
Now, whenever we find someone who is selling tamales we buy a few.   We have learned now who puts an adequate amount of chicken in the tamales.  And more importantly, who does not.  I have never seen a tamale here made of anything but chicken.
I was visiting a family recently and saw these tamales cooking in their back yard (see photo).  They made the tamales to feed a work crew at their house.
Making tamales takes quite a bit of work.  Most people only make them during the holidays. It is a social activity, like cooking a meal for an American Thanksgiving.
More Info & Recipes
To find out more, Kris of The PanamaAdventure blog, did a great post about tamales.   You can find a recipes by using our friend, Google.  This recipe uses only simple kitchen utensils.
Please comment below.