Good News!
The number of good hotels in Puerto has now doubled!
There was only 1 good hotel, now there are 2.
The new one includes a restaurant as well.
Now there are a total of 4 hotels in Puerto Armuelles
Two are good, One is okay, and One is a dive.
(and don't forget the Puerto Armuelles B & B – which is good)
Heavenly's Hotel (the newest one)
Tsunami Inn
Coco's Place
Pension Balboa
Scroll down for info on each hotel.
---
But First, are you also looking for property in Puerto?
You should check out our affordable & prime properties here.
Give us a shout and we'd be happy to them to you in person, along with a tour of our town.
Please use our contact form to let us know when you will be here.
---
For non-hotel options, scroll to the bottom of this page.
1. Heavenly's Hotel
The Hotel's Tagline is: "Where You Sleep Like An Angel"
Heavenly's Hotel is a beachfront hotel.
It is owned and operated by a wonderful host, Milton.
Milton has also lived & invested in Panama & Central America for many years.
The Hotel Offers These Amenities
Ozone treated pool & water

Ozone eliminates need for chlorine & may have health benefits

Full restaurant, which serves food familiar to North Americans. Opens at 4pm
Full bar
Beautiful beach just steps away
The Hotel Also Offers
Morning yoga on the beach
Massage
Arranges Tours & Activities
Contact Info
507-770-0989 or
507-6843-3250 (cell)
Rates
Rates are from $45 to $100/night.
There are long-term rates available
Heavenly's Hotel is located in the San Vicente neighborhood of Puerto Armuelles.
2. Tsunami Inn
The Ocean Is Just Across A Small Dirt Road From The Hotel
The Tsunami Inn is a small hotel run by 2 expats, Scott and Bob.
This attractive hotel is centered around its pool.
A central "hang out" gazebo with bar is at one end of the pool
3 small cabins are on one side of the pool (see photo)
This arrangement all faces the beach, which is just across the street.
The Tsunami Inn Has The Following Amenities
Swimming pool
Wi-Fi Internet
Air conditioning
A horseshoe pit
A community horseshoe game every Sunday afternoon
Beautiful beach just steps away from your cabin
An apartment for rent for longer stays
The Hotel Also Offers These Activities
Horseback riding tours
Fishing & boat tours
Contact Info
Email: [email protected]
Phone

607-507-7841 (USA)
6604-9365 (Scott) or 6745-2975 (Bob)- in Panama

6814-3747 (Albanis) Para reservaciones en Español

Website: www.tsunamiinn.com
Tsunami Inn is located in the San Vicente neighborhood of Puerto Armuelles.
FYI, no children are allowed.
3. Coco's Place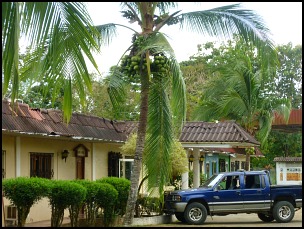 Coco's Place is located off the main road on the outskirts of town.
While the hotel is pleasant enough, their beds and pillows are not.
Because of its location, it is a pretty easy place to catch a taxi to both downtown and to the beach.
The hotel is located at the corner of the main road and the road that leads to the best beaches in Puerto Armuelles.
For instance, the beach in the Corazon de Jesus neighborhood is 2 miles away and the beach at the Pez de Oro neighborhood is 1 mile away from Coco's Place.
Coco's Place has a swimming pool, but it is under repair and not currently being used.
Contact Info
Email: [email protected]
Phone – (Panama cell phone numbers)

6684-9154 (Analis's number)
6592-3097 (Iris's number)

Website: Coco's Place does not have a website.
4. Pension Balboa
Pension Balboa Is A Dive In A Good Location
I really cannot recommend Pension Balboa. It is a dive.
Not that it matters, because it is almost always full anyway.
Many of the workers at the PTP, stay there by the month.
About 6 years ago, my family and I stayed there twice. The old woman and her husband who ran it were delightful.
Their beds, when we stayed there, were terrible. The bed sagged radically in the middle as soon as we laid down. It was as if the mattress was tucking us into bed, with itself.
Sadly, the old couple who owned it have died. I believe their daughter runs it now. I have not met her.
Pension Balboa has a great location in downtown Puerto.
Across from the water
Near the waterfront park
Near the bus station
Near restaurants, grocery stores, and bars.
In fact it is right above a bar and a small grocery store. I don't remember noise from the bar being an issue while we stayed there.
Contact Info
Email: We still need to ask them if they have email.
Phone: 770-9145 (Panama number. FYI Panama's country code is 507)
Website: As you can imagine, this hotel does not have a web site.
If you stay in any of these hotels, please tell them Betsy and Reyn from LivingInPanama.com sent you.
Other Accommodations
Don't want to stay in a hotel? Discover Your Other Rental Options Here.
If you want to stay in a hotel out on Punta Burica, visit this page.
The closest hotel on Punta Burica is about 7 miles from Puerto. But it takes about 20 to 30 minutes to get there from Puerto Armuelles.