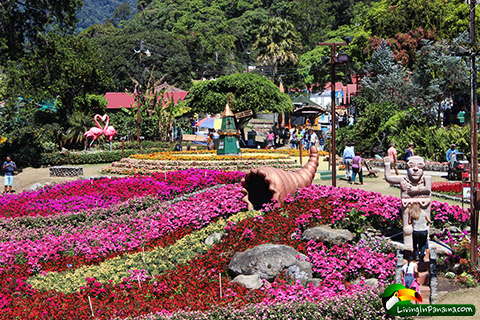 The Boquete flower and coffee festival certainly lives up to its name.  
But it doesn't offer up many more attractions than the ones in its title.
The landscape and garden design are certainly beautiful, but are by no means the best out there.
During the afternoon hours, the festival ground are relatively vacant.
In Panama, crowds only begin to filter in around early evening.  In order to attain the lively festival experience you may need to sacrifice a good night's sleep in order to drive home, or money on a hotel room.  During the evening & night, the festival adds amusement rides, live music and dancing to the mix.
Scroll down to see photos of the festival & Boquete
Of course if you don't mind a slower paced festival escapade or the hot sun, a one day trip to this festival is perfect.
Since this event was originally a coffee fair, it still offers up a large variety of local coffee brands. Boquete is known for having some of the best coffee in the world, so if you enjoy a good roast you should give this event a visit.
The festival is surprisingly small, especially for an event that has been held for over fifty years. Venders occupy most of the fair grounds, selling flowers, coffee, and traditional hand crafted souvenirs.
Boquete, the town
Though many people come for the coffee and flower arrangements, to me the real star of this event is the town and the scenery surrounding it.
During the 10-day festival there is an explosion of venders outside the festival grounds as well as inside. While in town you you might like to visit the plethora of restaurants, ice cream shops, as well tour coffee farms.
So if you come to Boquete solely for the festival don't forget to stay a little while, look at the views, and grab a bag of local coffee beans for the road.
The festival is the attraction, but in order to get the full experience you have to appreciate the town that puts it on, Boquete.
If you want to learn more, my Mom, Betsy, wrote some about the history of the Boquete Flower & Coffee festival.
This article was written by my 14 year old daughter, Skylar Vayda.  Over the next 3 months, Skylar will be writing a Panama-related article each week.  She will be picking the topic.  We hope you enjoy them.