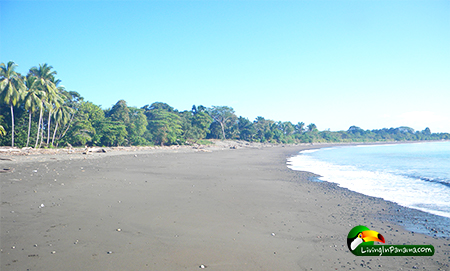 The Pez de Oro beach is delightfully located on a point.
It is, by far, the widest part of the beach.
Which means, even at the highest tides or biggest storms, ocean waves will never touch your property.
Which is also why wonderfully shade-producing trees grow right on the beach right below this property. Not just palm trees, but real shade producing mango and other trees.
These trees create the most fabulous place to sling your hammock.  In the shade, yet right on the beach.  I love the shady beach area here.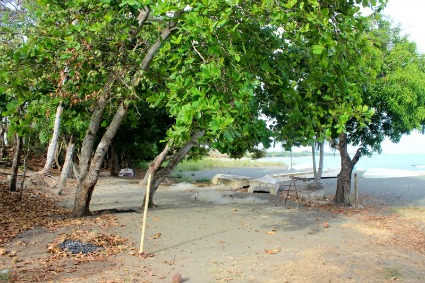 Scroll Down For Slideshow
Why Live Here
By far, widest part of the beach
Natural hook/anchorage for boat moorage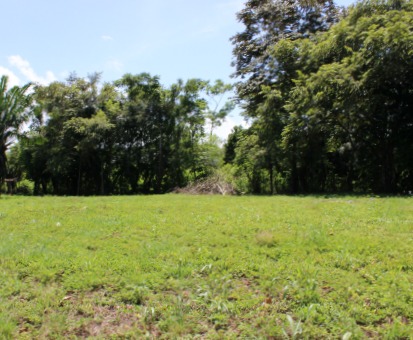 Ideal place to launch your boat
Gorgeous views up and down the beach
Step out your door to the beach
Ample land for a shop, huge garden, guest quarters…
Walk on the beach to the center of town in 20 mins.
Drive to town in 5 min, Bike in 10 min
Location
The neighborhood is called Pez de Oro (Fish of Gold in English).
Pez de Oro is only a 5-minute drive (10-minute bike ride) to downtown Puerto Armuelles.
(I describe the charming and unique beach town of Puerto Armuelles further down on this page.)
However, if you live in Pez de Oro, you don't have to go into town just to pick up milk or to eat in a restaurant.
You will find all these services near Pez de Oro
El Rancho, the best seafood restaurant in town, is about 1/5 mile away (Across from  Corazon de Oro beach community)
Tiny kiosk/tienda (store) kitty-corner from El Rancho. It is run by a very friendly couple, Edith and Domingo.
Breakfast, lunch (coffee anytime) cafe is run by Edith and her daughter. It is right next to their tienda.
Another restaurant, Restaurante Hermonas Bustos, is about 200 yards down the street from El Rancho
Grocery store, Mandarin, is on the main road into town. Just a 2-minute drive (or 15-minute walk) away
2 building supply stores and an auto-mechanic shop are all within a 2-minute drive
Living at Pez de Oro means you can live at a quiet beach without having to spend much time on the road doing your daily errands.
Pez de Oro on the far side of the San Barolo River from town. It is the closest of the out-of-town beach communities to downtown Puerto Armuelles. Pez de Oro is also further than 10K from the Costa Rica border, so Panama's 10K rule does not apply to it.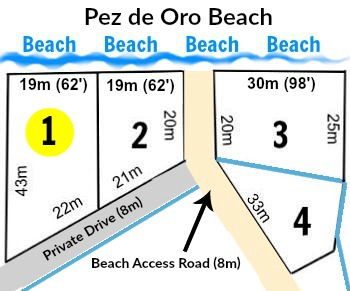 Property Details
Over 7700 square foot property (720 sq meters)
62 linear feet of beachfront (19 meters)
Flat and level property
All utilities available
Wide beach with wonderful views
Huge upside potential
Start Slideshow – Click On Any Photo Below
About Puerto Armuelles
Puerto has a real sense of place
Located right on the Pacific Ocean
Historic town. Built by Chiquita Banana, starting in the late 1920s
2nd largest town in the popular Chiriqui Province.
Everything you need, right in town
Although it is not yet a tourist destination, Puerto has features to attract recreational visitors, as well as retirees.
Horseback riding on the beach or in the hills
Surfing, stand up paddle boarding, or sea kayaking
Walks on the beach
Growing number of weekly expat get-togethers
Volunteer to teach English at local University and schools
Help with local volunteer spay & neuter animal clinic
Fishing (there is even a fishing lodge 30 mins away, Hooked on Panama)
Feed the monkeys at Mono Feliz (about an hour drive away on Punta Burica)
Help with turtle rescue at Tigre Salvaje (40 min walk past Mono Feliz on Punta Burica)
Whale watching in season
Day trips to Boquete, Volcan or Boca Chica
Bocas del Toro is only a 5-hour drive away and makes for a fun weekend trip
River rafting opportunities and more nearby
Puerto Armuelles is a place where you can easily create a happy and relaxed life.
Financing + Air Fare Bonus
We offer 2 bonuses to people who buy our property.
1) If you buy one of our properties, we will pay your airfare you spent to get to Panama. 
2) We offer to finance on many of our properties. Since it can be hard & time consuming for individual foreigners to qualify for a bank mortgage this is a great perk. Click for details of our financing and airfare bonus
Discover 10 good reasons to buy from us.
Even if you don't buy from us, we are always available to answer your questions.
Price
Only $59,500 for this gorgeous beachfront property
We look forward to showing you the property.
Please contact us if you have any questions.
Interested?
Please schedule a tour of the property.  If you want to make sure the property doesn't sell before you can see it, check out our property reservation option.
Meanwhile, explore our site to learn more about Puerto Armuelles and get other FAQs about Panama answered.  And of course, we are happy to answers your questions, contact us here.
---
Want To See This Property?
Tell Us When You Will Be In Town – Click Here
---
Property Summary
Price: $59,500
Neighborhood: Pez de Oro
City: Puerto Armuelles
Province: Chiriqui
Country: Panama
Square Feet (site): 7715 sq, feet

Square Feet (house): N/A
Site Dimensions (Feet):
Beachfront (linear meters): 19 m
Beachfront (linear feet): 62'
Reference Name: Pez de Oro Beach #1

---
Click link below for more information on adjacent lots. 
---
Learn about the "6 Steps to Buy Property in Panama".
---